The craftsmanship of traditional Hida Furniture and how it is incorporated into Scandinavian design
The Hida-Takayama region of Japan is a hidden gem that offers visitors a glimpse into Japan's rich history, culture, and nature.
The old town of Takayama, which prospered as a castle town during the Edo Period, has been beautifully preserved, featuring many traditional wooden houses from centuries ago. Visitors can stroll through the charming streets, admiring the traditional architecture and enjoy the region's specialities such as Mitarashi dumplings, Hida beef skewers and nigiri that can be eaten on the spot. In addition, the street is famous for a number of high-quality sake breweries, whose sake can be sampled at local restaurants or even at the brewery itself.
The region is also known for its breathtaking natural scenery, including the Japanese Alps and the Hida River, making it a popular destination for hiking. After a day of exploring, visitors can relax in the hot springs that are abundant in the region.
It was this rich nature that fostered the furniture industry, a major industry in the region. Even among the many verdant regions of Japan, Hida Takayama has particularly abundant forests. This region, which is comprised of approximately 93% forest, has cultivated a history of woodworking for more than 1300 years. The proficient skills of the craftsmen known as "Hida no Takumi (Masters of Hida)" have supported the building of shrines and temples, such as world heritage sites like Yakushi-ji Temple and Todai-ji Temple, as well as the construction of capital cities such as Kyoto and Nara. Hida furniture was born when the traditional techniques developed due to plentiful forest resources encountered Western bentwood furniture.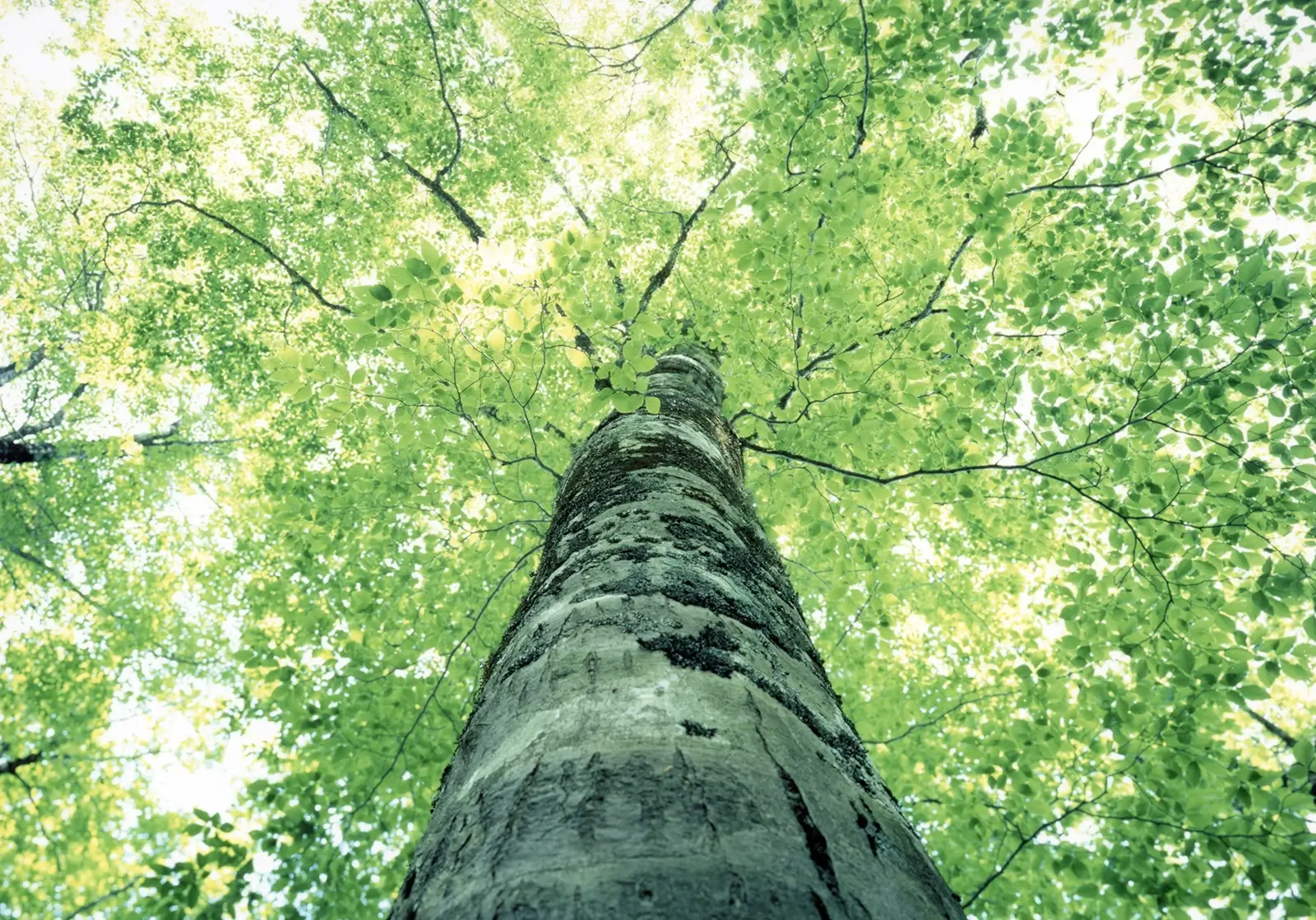 Hida Furniture Inherits More Than 1300 Years of History
"Hida furniture is premium wooden furniture produced in the Hida Takayama region," explains Mr. Shuji Nojiri, executive director of the Hida Woodworking Federation. "Rather than cheap furniture which is thrown out once it becomes damaged by use, our products are a cut above. We use carefully selected materials which can be repaired and used for a long time. It's important to the craftsmen that they deliver a product which they are convinced will bring joy to the customer."
Nowadays, Hida furniture craftsmen use a wide variety of wood materials to create diverse products and designs, from dining sets and TV stands to desks and pet-related goods. It all began, however, with a chair made of bent Japanese beech wood.
"About 100 years ago, Japan began a national strategy of creating bentwood chairs, which were popular in Europe at the time. Hida Takayama was considered a potential production site," says Mr. Nojiri.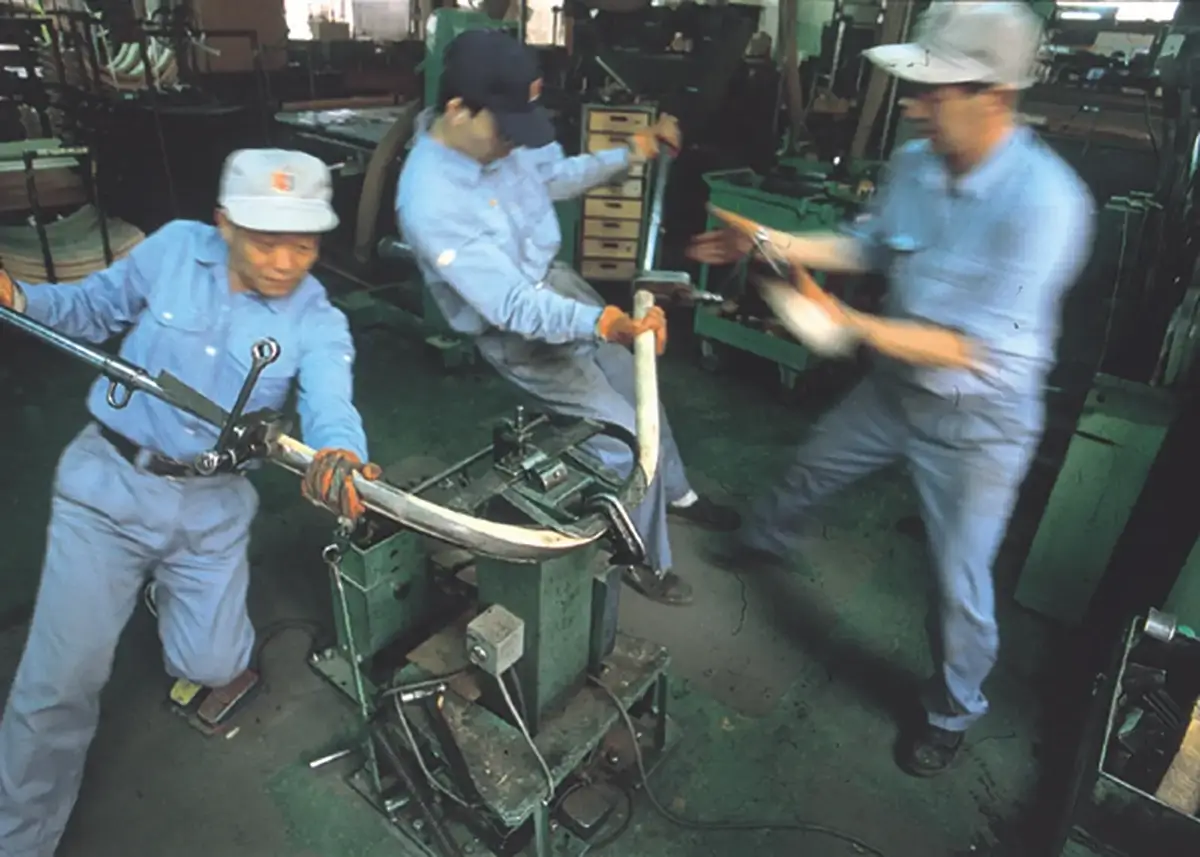 Hida Takayama originally gained fame for its woodworking and architectural craftsmanship during the Nara period (710-784 AD). Its superior techniques proved useful in building capital cities like Nara and Kyoto—so much so that the "Hida no Takumi (Masters of Hida)" System was created, whereby part of the region's taxes were waived in exchange for craftsmen being dispatched to the capital. This craftsmanship also contributed to the building of historical shrines and temples, and those techniques can be seen in Nara's world heritage sites of Yakushi-ji Temple and Todai-ji Temple.
In addition to its excellent techniques, Hida's furniture industry was also aided by the wide variety of trees growing in its vast forests. At that time, however, focus was placed on Japanese beech trees, whose wood was hard and difficult to process and had only been used for charcoal and geta "teeth". Could a use finally be found for Japanese beech wood...? Rather than importing and adopting the German technique of wood bending as it was, the craftsmen of Hida developed their own wood bending technique from scratch and were able to produce chairs made of Japanese beech.
At the time, chairs had only just been introduced to Japan. Developing a wood bending technique from scratch to produce a new item in that way showed the superior technique, foresight, and mettle off Hida's craftsmen, according to Mr. Nojiri. "Our pride in the 1300-year history of Hida woodworking is passed down in our DNA and lives in our furniture. Our determination to work intensely with wood is communicated through Hida furniture."
Brand Certification Reflects Hida's Spirit
In order to continue passing down that DNA, the Hida Woodworking Federation conducts strict inspections, and only those companies which meet the established standards can brand their furniture as certified "飛騨の家具 (Hida no Kagu/Hida Furniture)". The six inspection standards are: ecology, region of production, warranty, quality, wood materials, and design. Once a company has been certified, they must undergo re-inspection every few years.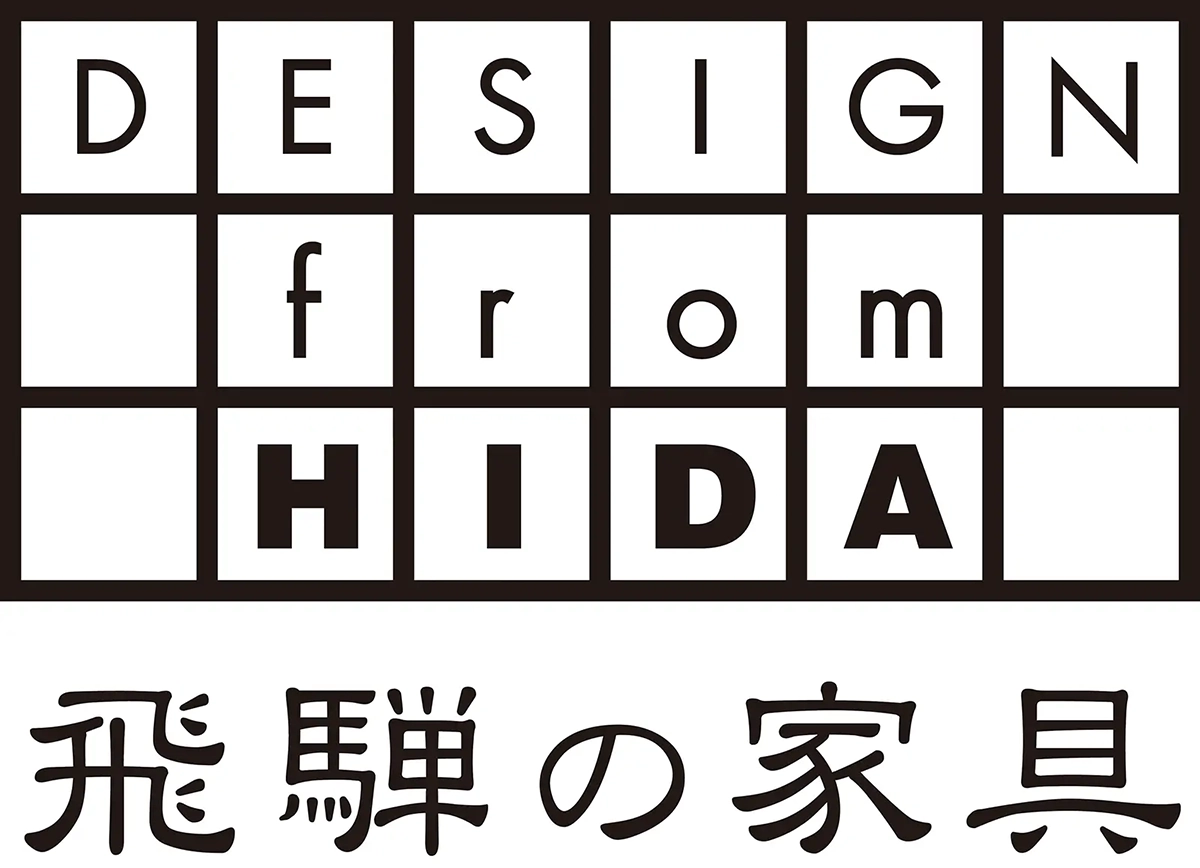 "For example, we require a 10-year warranty for the quality standard. In the event that the company which produced the furniture closes shop, other companies which have the certified Hida no Kagu/Hida Furniture brand will take on any repairs. We've introduced a system which can't be found anywhere else in Japan," explains Mr. Nojiri.
One certification requirement for the ecology standard is that companies are able to prove that their wood does not come from illegal logging, including imported timber. "Some of our wood is imported from the US. In order to protect the forests, we only use wood from trees which have grown to be a certain diameter in size. Some companies also engage in forest conservation by planting new trees, although this is not a certification standard," adds Mr. Nojiri.
The final standard, design, requires that the furniture follow the "Charter of Hida design" laid out by the federation. With five sections, including "A symbolic Relationship with Nature" and "Keeping the Tradition", the charter "is an expression of the region's determination to make things properly," says Mr. Nojiri.
Enjoying Hida Furniture with All Five Senses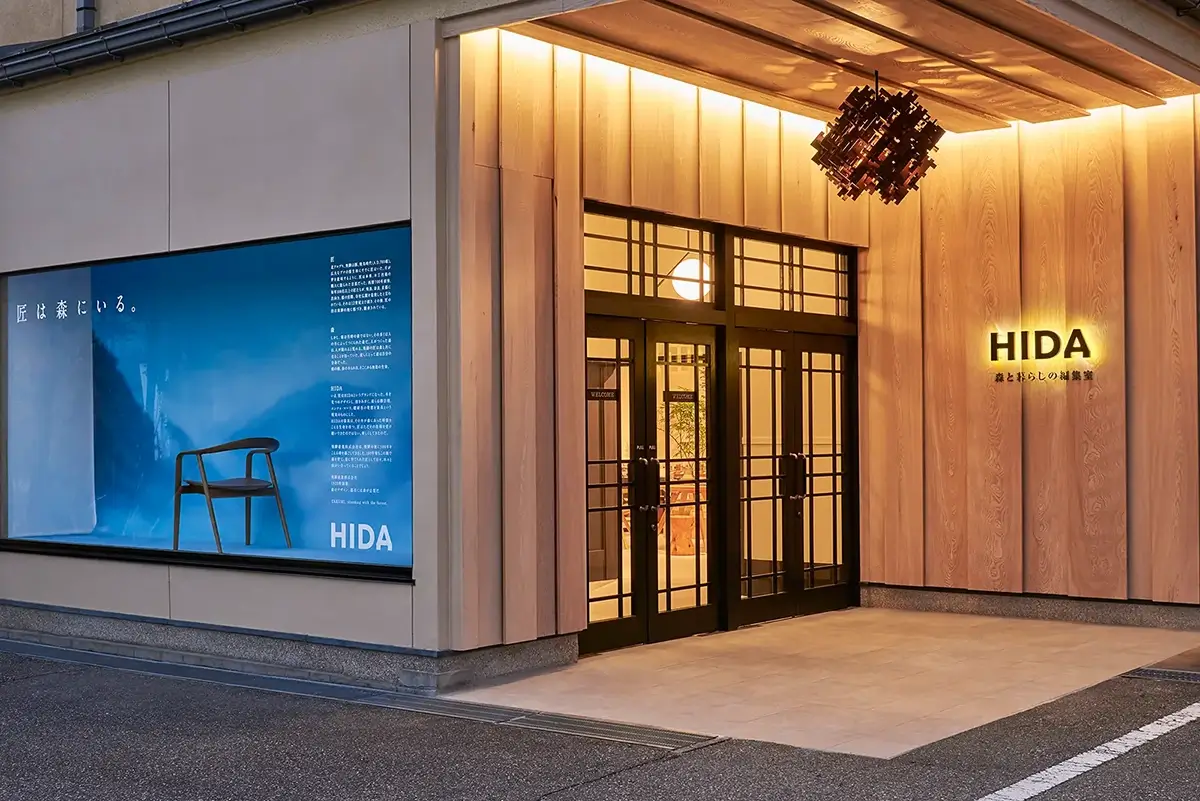 One company which has the Hida no Kagu/Hida Furniture brand certification is Hida Sangyo, which was founded in 1920. The company operates the HIDA Takayama Showroom: Forest and Life Editorial Store, where visitors can enjoy Hida furniture and the techniques of Hida carpenters through the furniture shop, café, and craft market.
Located about a 15-minute walk from JR Takayama Station, the HIDA Takayama Showroom was built by renovating and remodeling an old elementary school building constructed in the Meiji era. Here one can enjoy the bounty of Hida Takayama's forests through all five senses based on the concepts of Hida Sangyo's four values: consider inherent human needs; cultivate legacy through time; refine craft continuously; and coexist with the forest. "We have English speaking staff members as well as an official English website," says Mr. Yuta Sakai, Manager of Design Division at Hida Sangyo.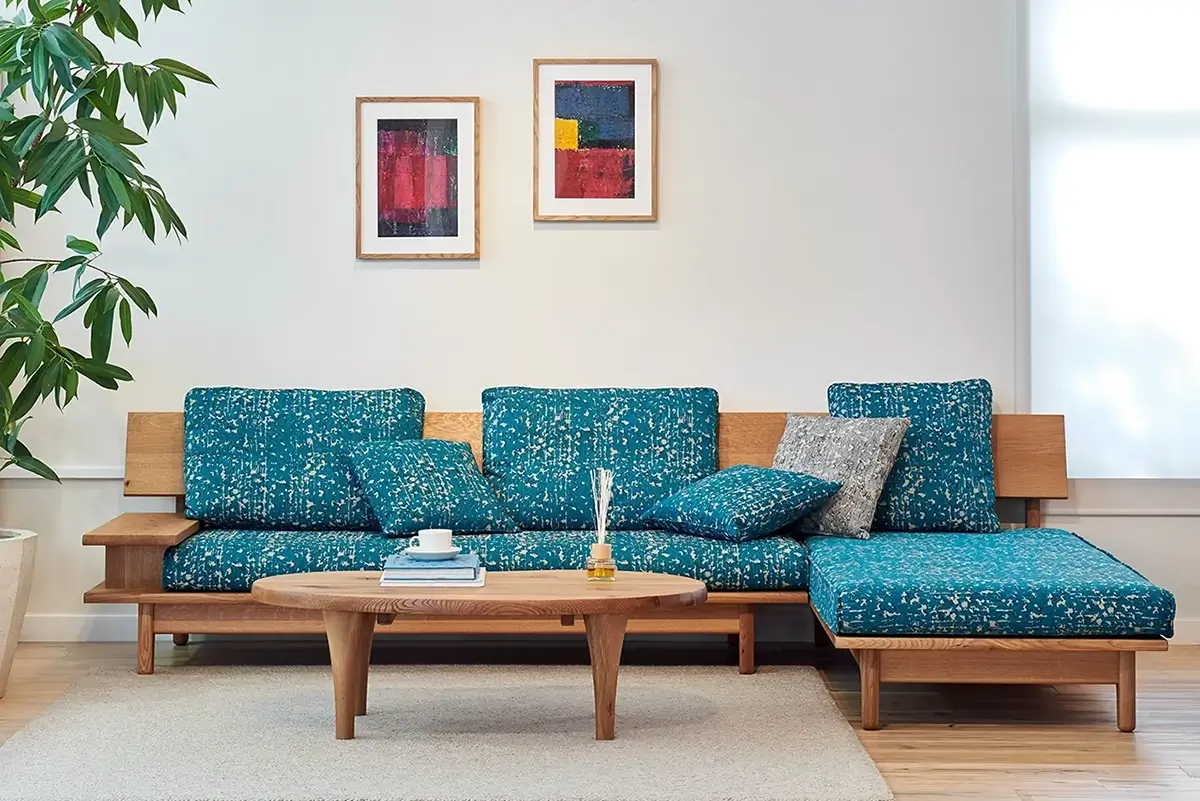 In addition to displaying furniture born from collaborations with many artists from Japan and other countries, the furniture shop also proposes various coordination of Hida Furniture with pieces crafted by artists or textiles developed based on works of art.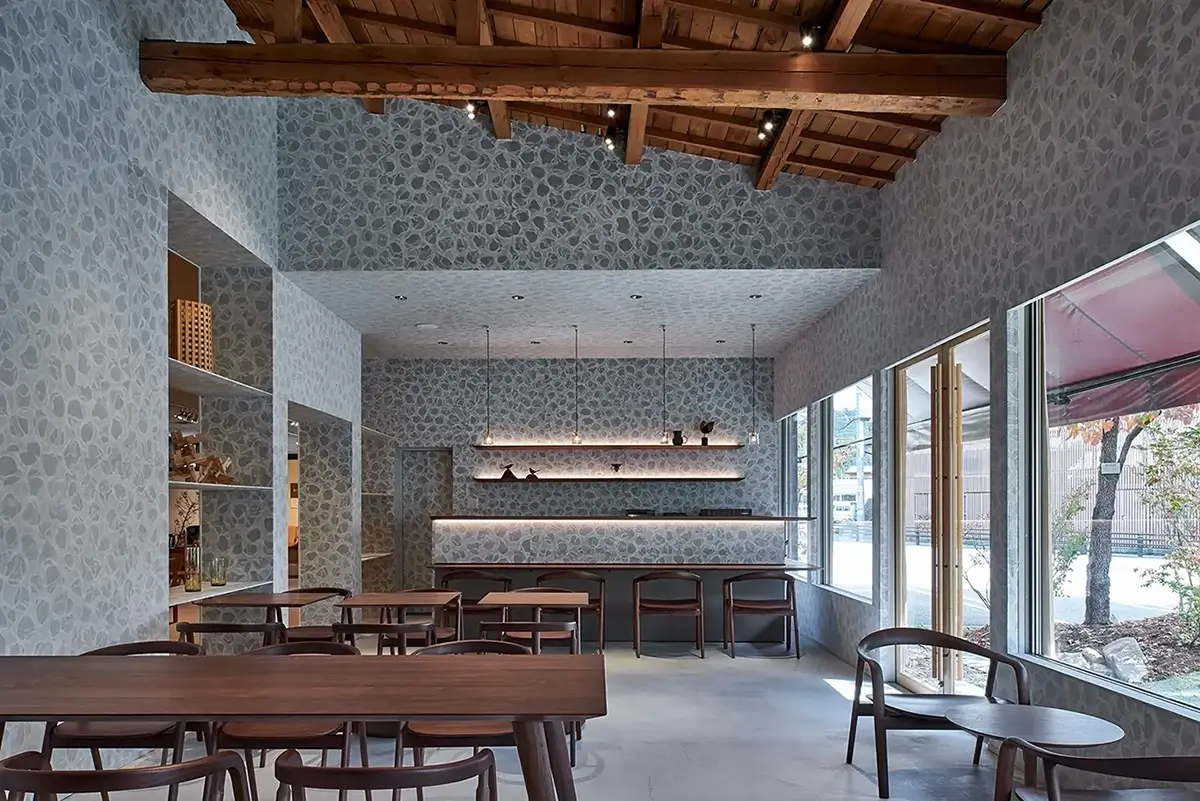 In the same building can be found CHAIR&COFFEE, a café designed by Kengo Kuma, the architect in charge of designing the National Stadium which was the main stadium for the Tokyo Olympics. Here one can take a break while sitting on Kumahida chairs, which were designed by Kengo Kuma for Hida Sangyo's 100th anniversary, and Shika chairs, which are Mr. Kuma's new creation evoking the light and lively motion of cute deer.
At the café, one can enjoy a variety of local flavors, including three types of craft coffee made using beans from the famous Gifu shop Midorinoyakata and an oil-free chiffon cake made using rice flour from the Takayama farm Manma Noen. In the winter, the café serves hot chocolate topped with red Japanese prickly ash from Okada Sanshoen in Okuhida region.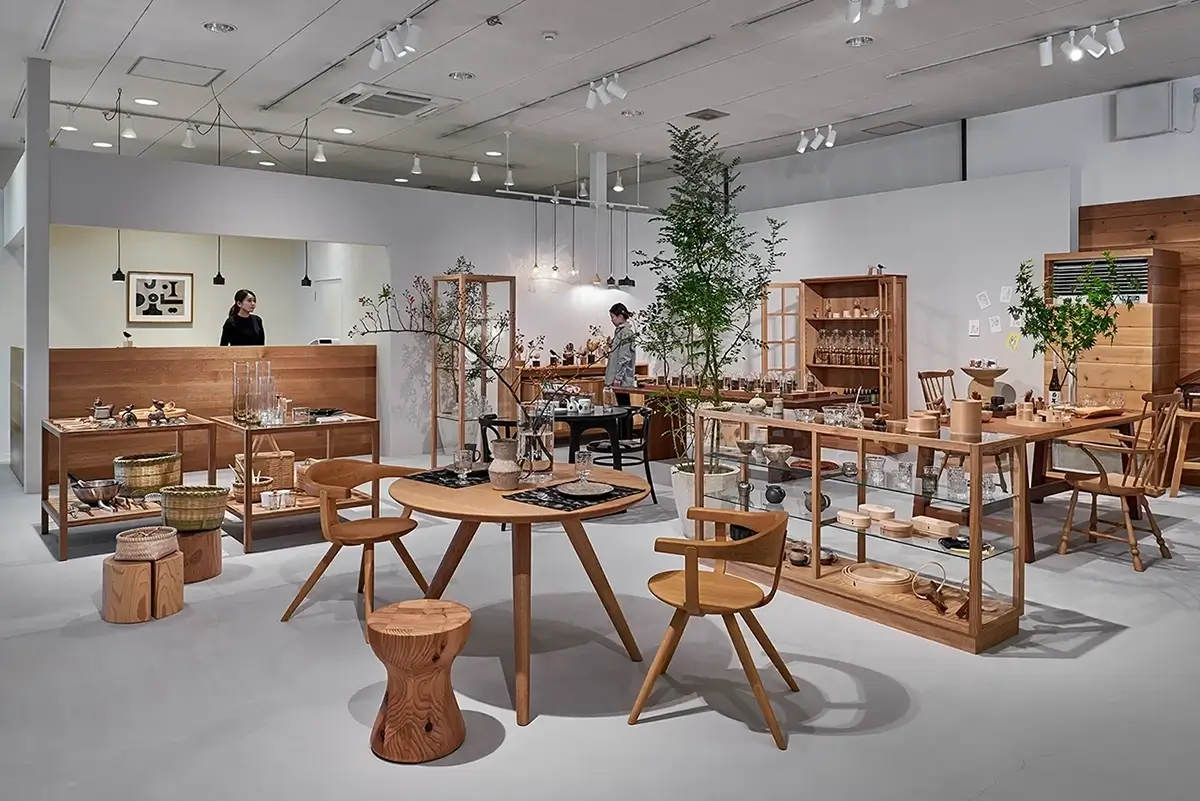 Connections to the local area can also be seen at the craft market located on the premises. Primarily focused on works by local Hida Takayama artists, the market has all sorts of daily goods like dishes and cutlery, as well as curios. There are also plenty of small items such as jewelry, making it the perfect place to find wonderful souvenirs which will fit in your suitcase.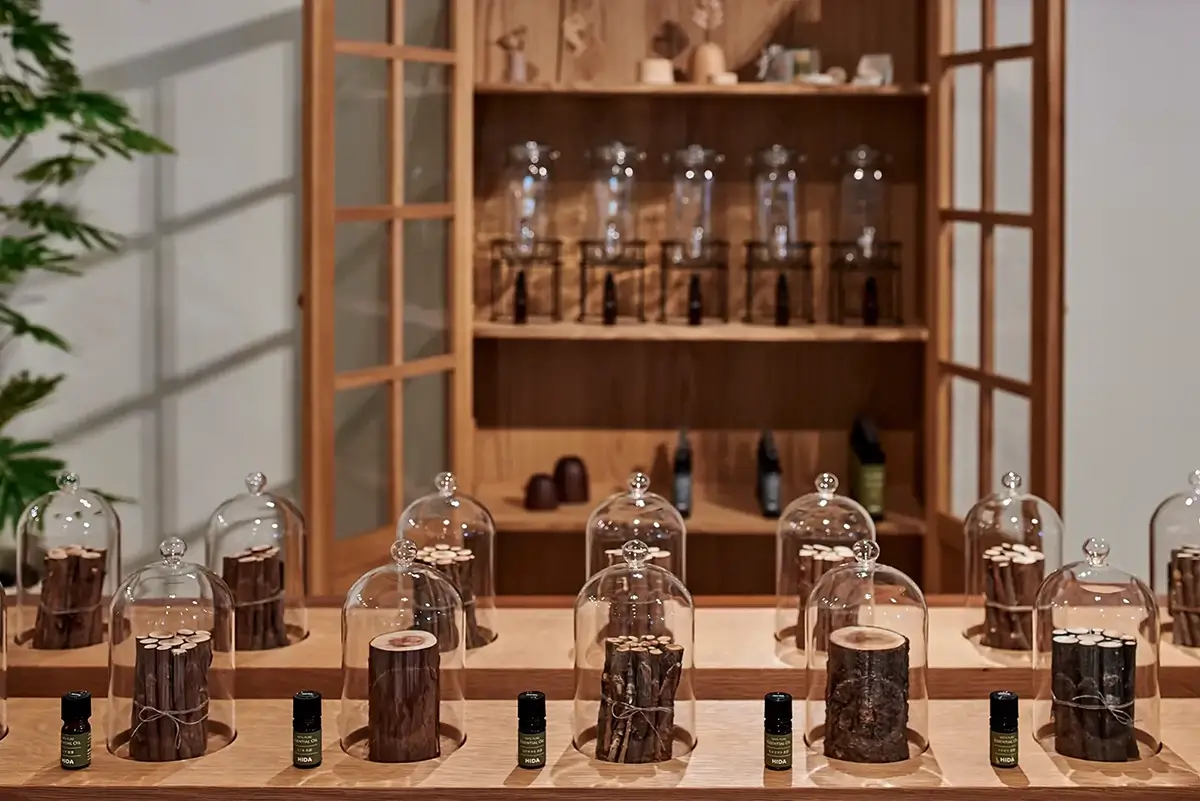 In one corner of the craft market, the Forest Aroma Laboratory offers a variety of aroma products produced by Hida Sangyo using foliage and wood which cannot be used for furniture. You can immerse yourself in the scents of the forest, with sale-by-volume of freshly harvested aromas sent straight to your home from the lab, limited edition essential tree oil variations, and blending your own scent sprays.
"Sprays can be made in as little time as it takes you to choose your aroma plus five minutes. You can lift the glass dome to sniff the scent and choose your favorite from among the eleven varieties. Many people choose from the recommended combinations selected by the shop."
Perfect for "Japandi" Japanese Style
At the furniture shop, customers can seek coordination consultations and purchase furniture directly. "The YANAGI COLLECTION and Mori no Kotoba/Words from Forest are particularly popular among overseas customers," says Mr. Sakai.
The YANAGI COLLECTION is at the forefront of industrial design in Japan. This series designed by Sori Yanagi is displayed at art museums around the world, such as the Louvre Museum, the Victoria and Albert Museum, and the Metropolitan Museum of Art. "Among those, the armchair made by bending one piece of wood is very popular," says Mr. Sakai.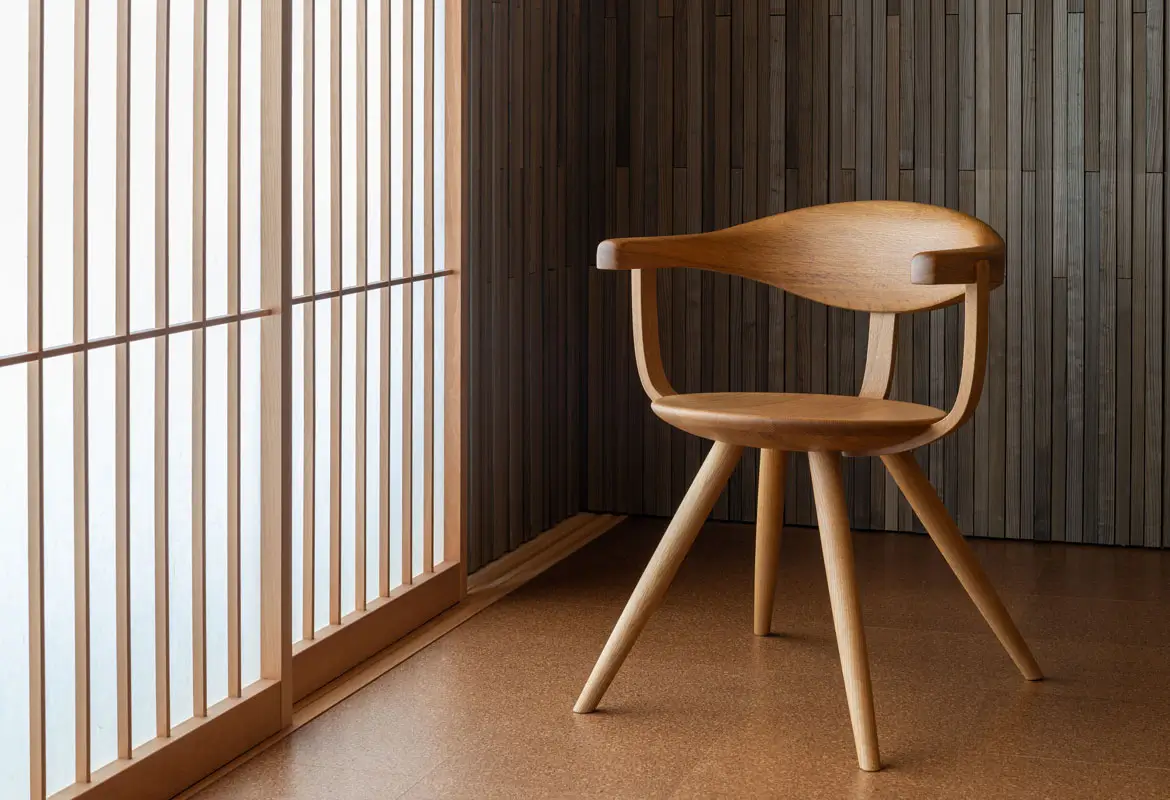 Mori no Kotoba/Words from Forest is a series designed by product designer Toshimitsu Sasaki with the goal of enjoying the characteristics of wood. "It's very popular due to its attractive joints," says Mr. Sakai.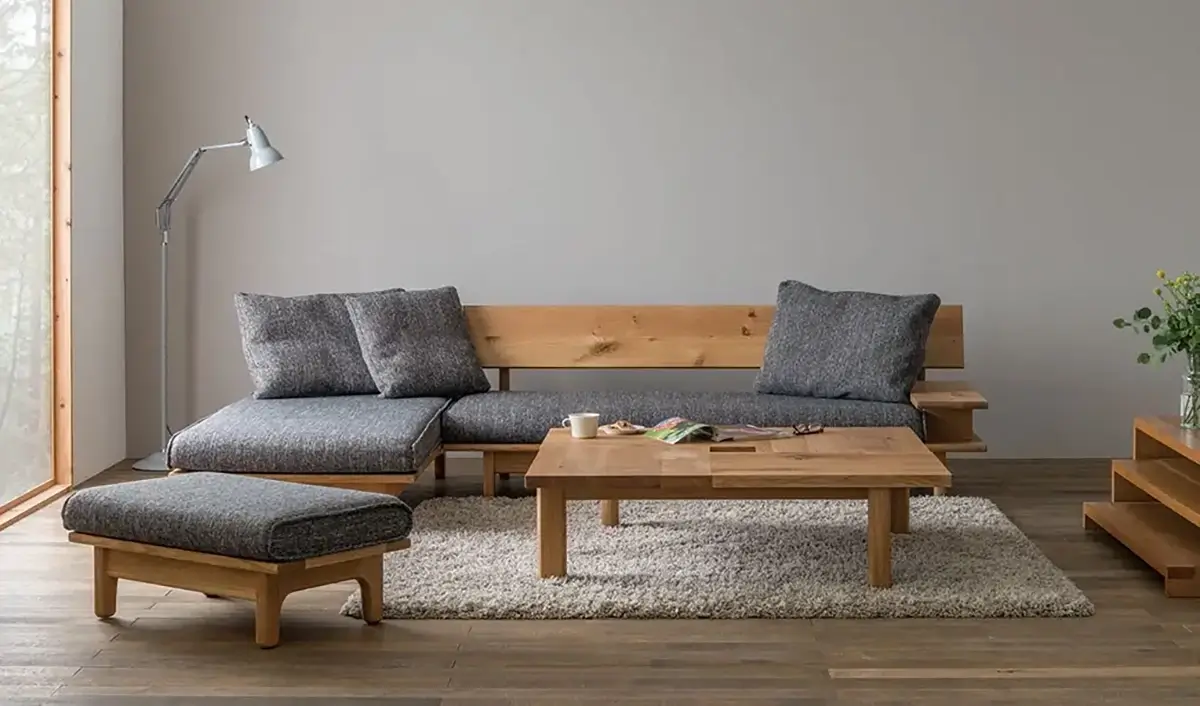 Hida Furniture also matches well with the Japandi style, a fusion of Northern European and Japanese styles which has been popular in recent years. Mr. Sakai recommends the SHIKA designed by Kengo Kuma, which can be seen at CHAIR&COFFEE, and the SUWARI series.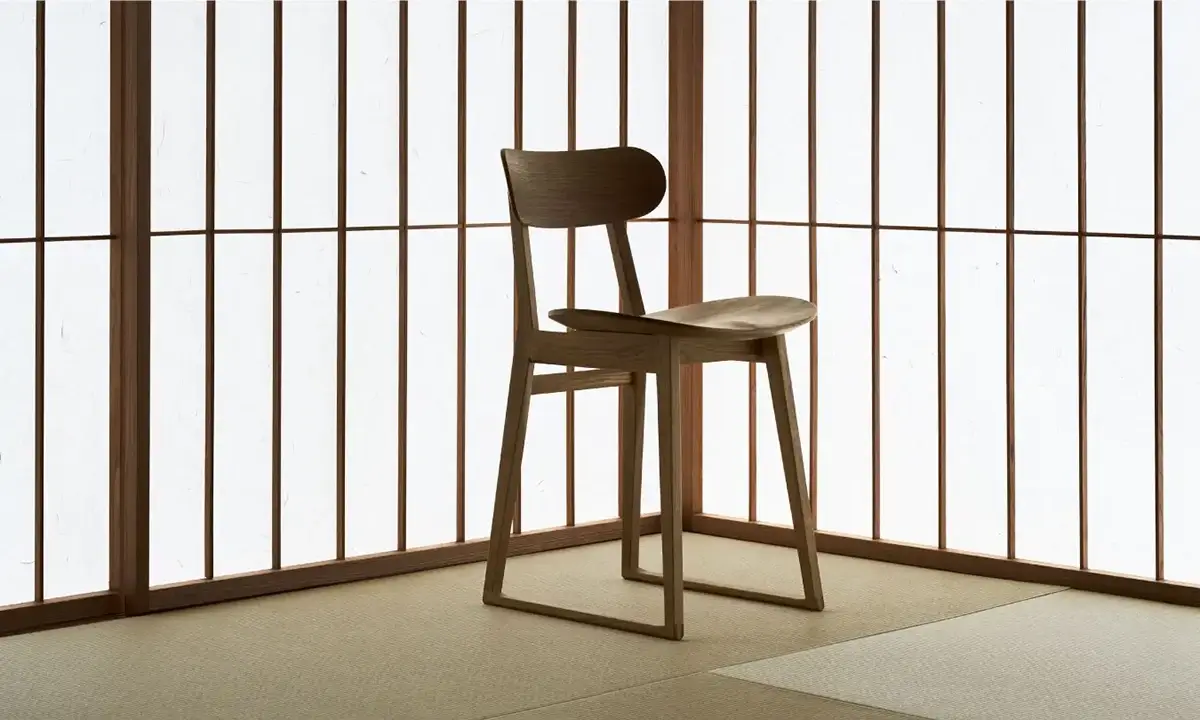 The SUWARI is a lineup of chairs worked on by designer Kenya Hara. It was designed to reduce the load on the floor, whether tatami, wood, or carpet. "It's designed with an awareness of the vertical flow and blends in naturally with Japanese style or modern architecture spaces, delicately bringing the space together," says Mr. Sakai of the stool's attractiveness.
"By placing both in a minimal space which evokes Japanese-style rooms, one creates a beautiful harmony of space and furniture. Why not try incorporating them into a room as the essence of Japanese style?"
The HIDA Takayama Showroom Forest and Life Editorial Store allows you to enjoy the beauty of Hida furniture which has been passed down from the Hida carpenters. Why not handpick an item that fits your style?