One of the world's most iconic mountains, instantly recognizable Mount Fuji is partially located in central Japan's Shizuoka Prefecture. An active volcano, Mt. Fuji was registered as a World Cultural Heritage Site in 2013, and according to UNESCO, "Mount Fuji has inspired artists and poets and been the object of pilgrimage for centuries". Indeed, every traveler hopes to see the elusive mountain, such is its' magnificence and beauty. More than just a mountain to see and climb, Mt. Fuji also plays an important role in the lives of the local people. Here are some new ways to enjoy Mt. Fuji.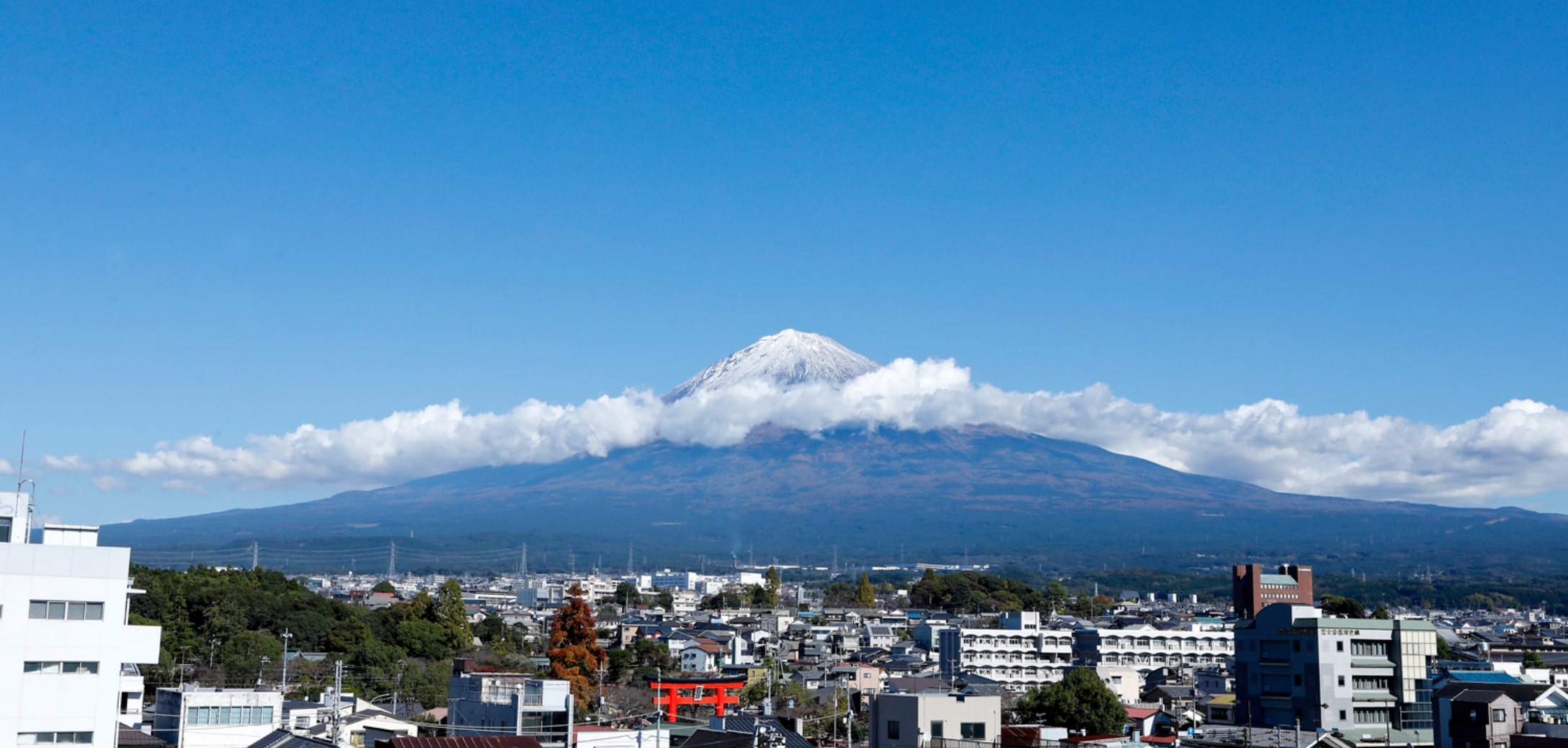 The Artistic Research Facility, Mt. Fuji World Heritage Centre Shizuoka
As inspiring as the mountain that inspired it, the Mt. Fuji World Heritage Centre in Shizuoka Prefecture is a sight to behold. The Exhibition Building's eye-catching inverted cone shaped structure when viewed in the natural spring fed reflection pool in front of the complex, creates a mirror image of Mt. Fuji. The wooden lattice work encompassing the symbolic sculpture is made of timber carefully harvested from the forests surrounding Mt. Fuji and is designed to invoke the image of the volcano's rocky slopes. The traditional red torii gate represents the Fuji Hongu Sengen Taisha Shrine, the Shinto faith which holds Mt. Fuji most holy, and its precepts of natural order in the circle of life and renewal. The entire arrangement offers more than a stunning photo opportunity, it offers an explanation, reminding us of the forces of nature at work.
The Mt. Fuji World Heritage Centre, shizuoka is a key scientific and educational facility, designed to ensure the protection, conservation, and transmission of the importance of the mountain for future generations. As a learning facility, visitors can gain a deeper understanding of Mt. Fuji as a World Cultural Heritage Site. It features educational exhibits allowing visitors to experience Mt. Fuji with all five senses.
Displays and exhibits are connected via a 193m long spiraling slope starting from the first to the 5th floors, reminiscent of a mountain climb, and include the volcanic history of Mt. Fuji, its near perfect cone formed by lava and other volcanic discharge, and the themes of Fuji as an object of faith and art. The Exhibition Building's top floor observatory offers unobstructed views of Mt. Fuji.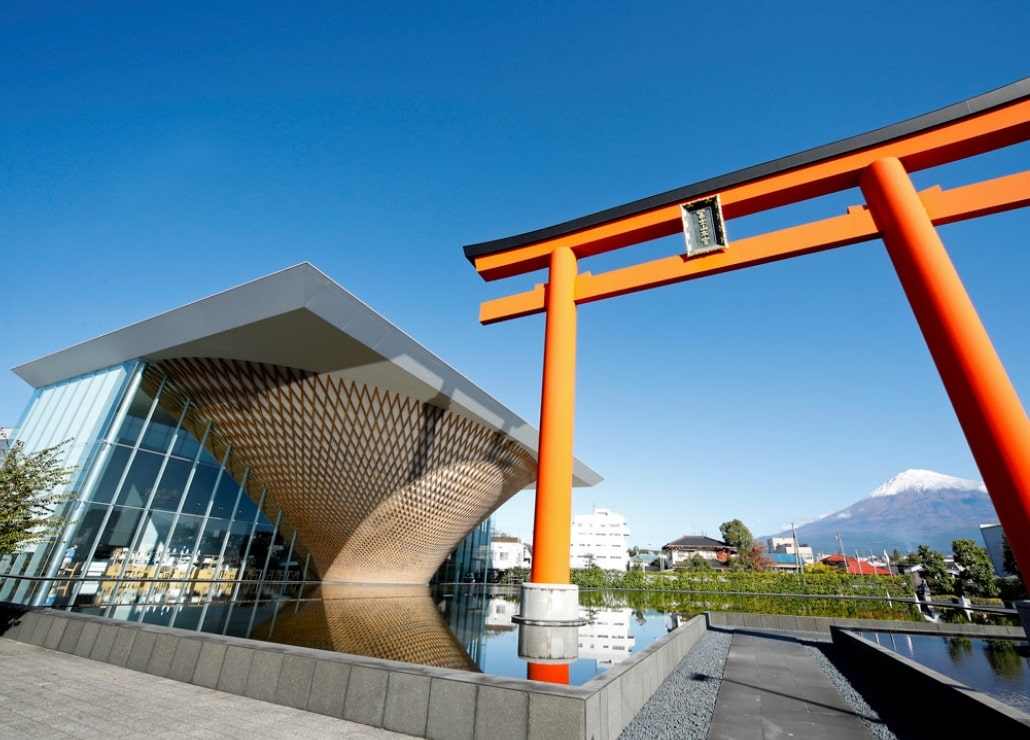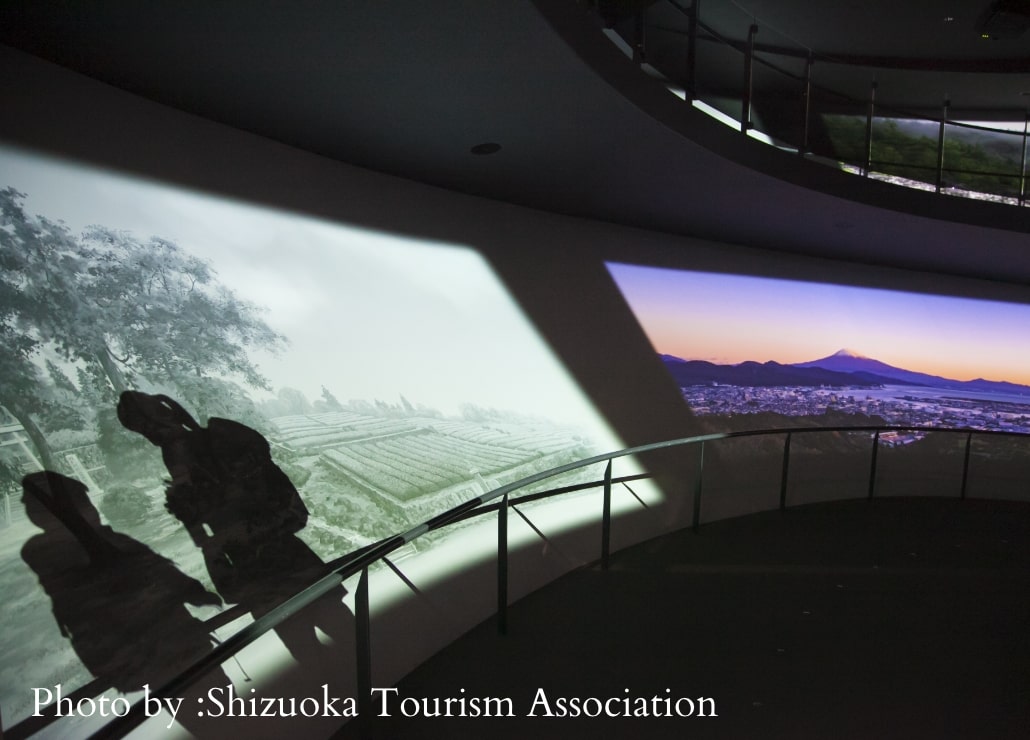 Melting snows and rain falling onto the great mountain are absorbed into the porous rock and filtered within, eventually emerging to form ponds, falls, springs or rivers, and even wells up from the bottom of the sea. Shizuoka Prefecture's Wakutama Pond in the Fujisan Hongu Sengen Taisha Shrine precincts is designated a National Special Natural Monument. Once it was customary to purify oneself here before climbing Mt. Fuji. The nearby Shiraito no Taki Waterfalls too are world famous. The waters gush from between the volcanic layers, forming hundreds of waterfalls that flow down a curved cliff 20m high and 150m wide. Wakutama Pond and the Shiraito Falls are famous tourist spots today but were once sacred places used for purification and ascetic practices.
The Mt. Fuji World Heritage Centre focuses on the natural spring waters, a valuable resource, and sold across Japan as drinking water, supporting a variety of life and the livelihoods of the local people.
Mt. Fuji is not just something to view or climb, it is a symbol of Japan, a sacred place, and an integral part of the natural environment.
Mt. Fuji World Heritage Centre, Shizuoka
VIEW MORE
Akafuji, A Specially Bred Fine Eating Delicacy
The natural spring waters produced by Mt. Fuji is an important resource that nurtures the food of the region. Mt. Fuji's abundant spring waters are essential for the cultivation of rice, particularly in Shizuoka Prefecture's Gotemba and Oyama regions, long recognized known as quality rice-growing areas. The crystal-clear spring waters of Mt. Fuji are also used to grow the popular condiment wasabi (horseradish), and mizuna (water greens / Japanese mustard greens) both of which are major industries in this area
Thanks to the high-quality spring waters, Shizuoka Prefecture is also Japan's premier producer of rainbow trout. Originally native to the rivers of the Pacific coast of North America, rainbow trout were brought to Japan as frozen eggs in 1877. Years later, in 1926, the Japanese government promulgated an ordinance for the promoting of aquaculture, and actively encouraged the cultivation of rainbow trout as a food source. Shizuoka Prefecture established the Fuji Trout Farm in 1933 becoming Japan's third prefectural trout farm. The abundance of crisp, high quality waters quickly saw Shizuoka become the leading production area.
Since 1933 Shizuoka has been focusing on producing, marketing and branding Fujinomiya City's specialty brand trout, Akafuji, which translates to "red fuji", and are raised slowly and carefully in the pure and natural spring waters emerging from the depths of Mt. Fuji. Akafuji trout are produced under the highest levels of quality control possible, and must pass over ten strict quality standards, including immature fish weighing at least 2.0kg and with a salmon color chart rating of 25 or more. As a result, the flesh of the Akafuji rainbow trout is fine-grained, firm, and rich in umami. Compared to imported salmon, it is also appreciated for its stronger flavor. As a food, Akafuji is a safe and secure food source, safe enough to be enjoyed as sashimi. Naturally Akafuji are the pride of Shizuoka.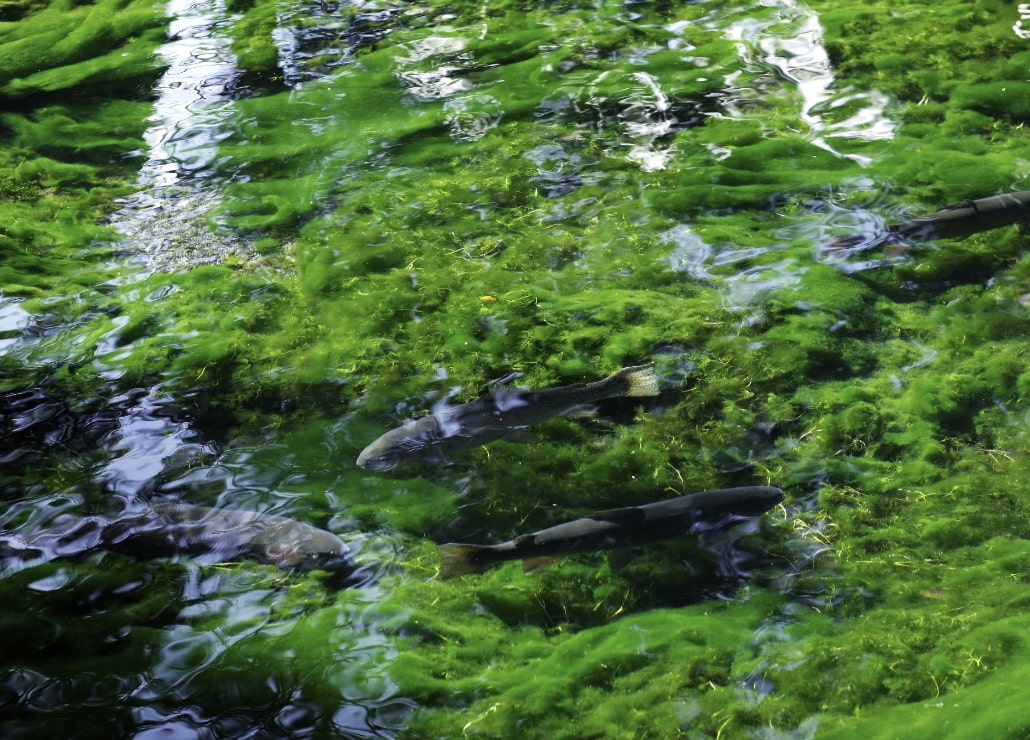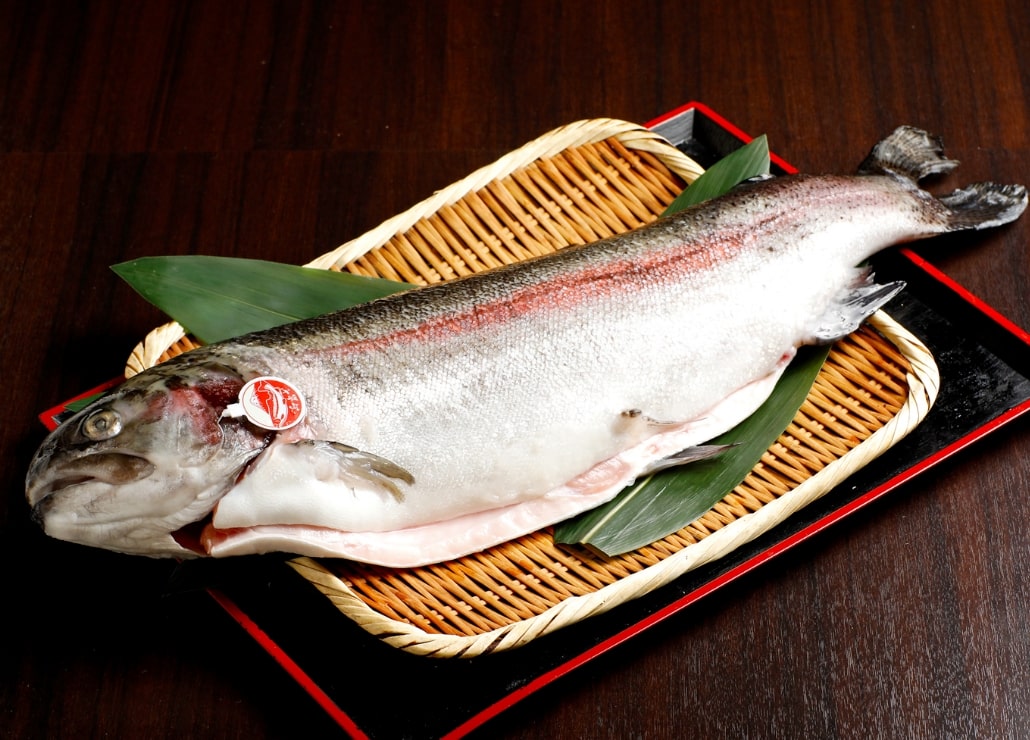 Currently, there are six producers of Akafuji trout. 80 tons were shipped in 2021, with more than half being distributed within Shizuoka Prefecture. The remaining few are prized in markets across Tokyo (Toyosu), Nagoya and other regions, but there are very few restaurants outside of Shizuoka Prefecture where you can truly enjoy them.
Enjoy the pride of Shizuoka, Shizuoka's brand trout Akafuji, raised in the pristine spring waters of Shizuoka's other source of pride, Mt. Fuji.
Iwao, Quality Izakaya Dining With the Best of Shizuoka
Japan's largest height difference can be found in centrally located Shizuoka Prefecture. Shizuoka boasts the nations' highest point, Mt. Fuji at 3,776m above sea level, and the lowest point being the bed of Suruga Bay, some 2,500 meters deep. As such, it is a treasure trove of abundant seafood, mountain delicacies and spring water via Mt. Fuji.
Located 200 meters south of Sumpu Castle Park in central Shizuoka City, Iwao is a traditional Japanese styled izakaya, a restaurant pub, where one can enjoy a wide range of Shizuoka's specialty foods in a unique, friendly and relaxed atmosphere. In particular, Iwao is one of the few restaurants serving the local delicacy, Shizuoka's famous brand trout, Akafuji.
Akafuji is characterized by its clear and vivid orange color and fine-grained, firm flesh, and remains in this state for 1-2 days after direct delivery. From about the third day onwards, the meat matures and becomes softer and more delicious. Because it has a refined fat, Akafuji is said to have a sweet taste, and while it is often compared to salmon, it is completely different from salmon.
Iwao serves this fine fish as sashimi or carpaccio, and it is just as delicious when steamed, fried, or cooked. At this restaurant, Akafuji is also offered as kushiage, deep-fried and served on skewers, and seiro-meshi, rice cooked with dashi stock, then topped with ingredients and then steamed. While some may not be fond of freshwater fish, Akauji is the finest quality, with no peculiarity or smell, testimony to the high level of aquaculture technology. It is easy to season and can be applied to various dishes. The combination of Akafuji trout and Shizuoka's finest ingredients and seasonings, eaten with local mandarin orange juice and sushi vinegar all procured from the farmers and producers, is also good dining.