Home > The G7 Ise-Shima Summit
About the G7 Ise-Shima Summit, which showed Japan's appeal to the world
The G7 Ise-Shima Summit was held on May 26 and 27, 2016. It had been eight years since Japan had hosted an international summit, the previous being the G8 Summit in Toyako, Hokkaido in 2008. The Ise-Shima region, where the summit took place, is very much the heart of Japan, a land of beautiful scenery that includes eternally historic Ise-jingu Shrine, islands big and small, and a coastline full of inlets. By drawing the world's attention, the summit provided an opportunity to share Japan's appeal to the world, including its culture and traditions, its spirit of hospitality, its world-famous cuisine, its advanced technology, and its innovation.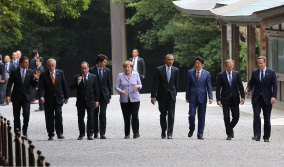 The G7 Summit was attended by the heads of seven states — Japan, USA, UK, France, Germany, Italy, and Canada — as well as the president of the EU Council and the president of the EU Commission
Relive Every Scene from the G7 Ise-Shima Summit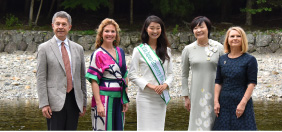 This program provided an opportunity for Mrs. Akie Abe and the spouses of the other leaders to interact with each other and experience Japan's beautiful scenery and rich culture.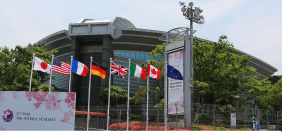 Learn about some of Mie Prefecture's famous places, traditional craftsmanship, and pastries that received attention thanks to the G7 Summit.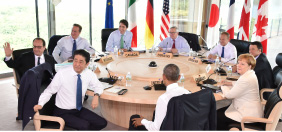 Get a close-up look at the Shima Kanko Hotel, a hotel consisting of three facilities that hosted the summit and showed hospitality to the G7 leaders.
The Four Shoryudo Routes