Home > Meet the Shoryudo Ambassadors Ms. Ryoko Nakano
What Is a Shoryudo Ambassador?
In order to increase the number of foreign visitors to the Shoryudo and arouse the interest and curiosity of non-Japanese people regarding the Shoryudo, actress Ryoko Nakano, Hong Kong's EGL Tours president Man Ying Yuen, and Sake Samurai coordinator Toshie Hiraide have been installed as Shoryudo ambassadors.
Ms. Toshie Hiraide

Ms. Ryoko Nakano

Mr. Yuen, Man Ying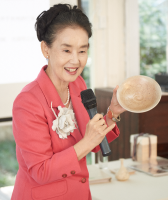 ◉Profile of Ms. Ryoko Nakano
Actress and advisor to the Asia-Pacific Cultural Centre for UNESCO. Born in Tokoname, Aichi Prefecture.
Promotes mutual understanding between Japan and China with the goal of creating a culture of peace.
Also conducts international relations activities with numerous other countries, including the US and France.
Official website
http://ryokonakano.ec-net.jp/