A massively diverse range of Bodhisattvas! Hiyou Koke-no-Sato Moss Garden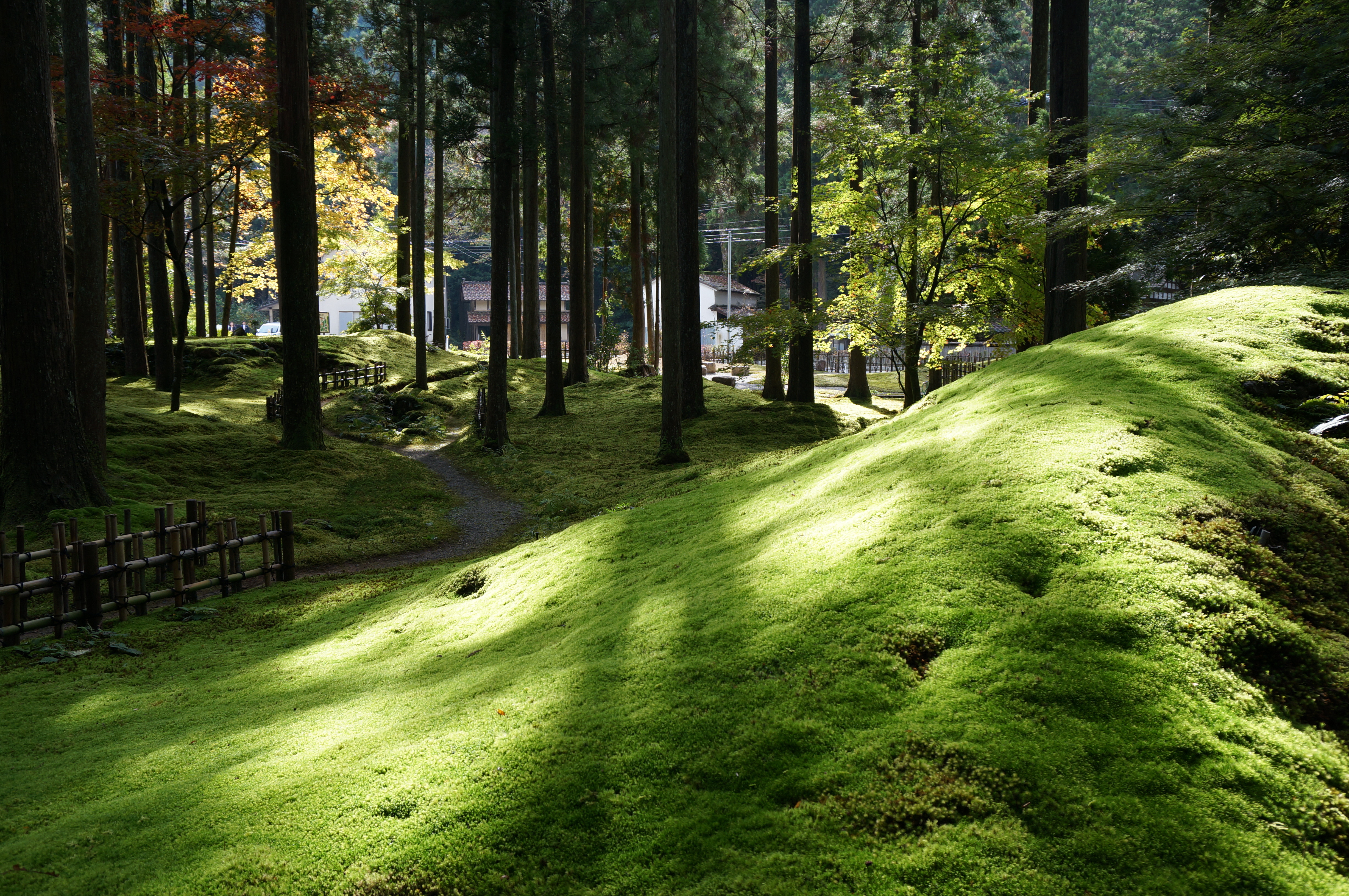 In the Japanese national anthem "Kimigayo," "moss" is referred to as a plant that symbolizes Japan.
Koke-no-Sato moss garden is located in Hiyoumachi, Komatsu City, Ishikawa Prefecture, a 3 min. car drive from Awazu-onsen hot spring in Kaga onsen-go, and earns positive reviews from visitors from Japan and abroad for being one of the most famous mossy areas in Japan, where a diverse range of moss (bryophyta) can be observed.
This place draws a diverse range of visitors, including not only moss researchers and fans, but senior citizens, foreign tourists, working people seeking some soothing relaxation, students studying the environment, both children and the elderly, and VIP guests too.
In addition, Hiyou-cho also draws attention from those in the know both in Japan and abroad for its beautiful village mountain scenery, which was chosen as one of Japan's 100 Best Village Sceneries, including not only moss, but also groves of trees, including the famous "Hiyou Cedar" trees hand planted by Japan's emperor at the 66th National Planted Tree Festival, old houses, streams where dragonflies fly around each other, and gardens, and also for being a place where Japan's ancient lifestyle traditions are carried on.
In Koke-no-Sato, in addition to the Hokuriku area climate and terrain of gorges between mountains, there is also a diverse range of moss that is adapted to each environment by using pruning and thinning to produce sunny, semi-shady, and shady environments along the surface of the ground. According to expert surveys, 48 varieties of Bryophyta have been confirmed in town, which is also where the Bryological Society of Japan holds its meetings.
Koke-no-Sato is a place where you can observe a beautiful mountain village area that includes beautiful cedar forests surrounded in moss-covered gardens, shrines and old houses, that has been chosen as one of Japan's 100 Best Village Sceneries and that is open to tourism, all while hearing explanations from a guide about the area's nature and lifestyle culture.
Theme

Life / Culture
ishikawa
| | |
| --- | --- |
| Website | https://hot-ishikawa.jp/sys/data/smartphone-index?page-id=18376 |
| Highlight | A tourism experiences spot centering on famous moss area "Koke-no-Sato" and the folk house cultural exchange experience facility "Wisdom House." |
| Experience content | The Forest of Wisdom is a tourism experience spot centering on famous moss area "Koke-no-Sato" and the folk house cultural exchange experience facility "Wisdom House." You can observe a beautiful mountain village area that includes beautiful cedar forests surrounded in moss-covered gardens, shrines and folk houses, that has been chosen as one of Japan's 100 Best Village Sceneries and is open to tourism, all while hearing explanations from a guide about the area's nature and lifestyle culture. |
| Tour style | With guide |
| Price | 500 (200 for elementary, middle and high school students) |
| Payment Method | Cash |
| Acceptable number / Program | 20 people per session |
| Publication time Opening Hours | 9:00 AM-4:00 PM |
| Time required for Stay , Exprerience | Approx. 60 min. |
| Closed | Winter season (however, viewing is not possible in some instances. Garden is closed in stormy weather) |
| Parking Lot | Parking lots are available in the town. |
| Merchandise Availability / Food Availability | No food and drink available; moss shops available in the neighboring area |
| Receiving target | Individuals Groups |
| Pamphlet | Interpreters, guides and other services: available, but require consultation |
| Wi-fi | None |
| Barrier free correspondence | None |
| Reservation(Need / No Needed) | Visits by groups of more than 10 people, organizations, and tours: advance booking |
| Reservation window | Hiyou Moss Garden Preservation Council tel: +81-90-7083-6969 Kanan Corp. +81-50-3333-2760 |
| Postal code | 923-0324 |
| Contact address | Tora-71 Hiyoumachi, Komatsu City, Ishikawa Prefecture Koke-no-Sato |
| Contact information | 日用苔の里整備推進協議会TEL +81-90-7083-6969 カナン株式会社TEL +81-50-3333-2760 |
| Official website | https://hot-ishikawa.jp/sys/data/smartphone-index?page-id=18376 |