ECO Ride Coupon 600 yen ticket ECO Ride Coupon Nuku Mobi 2000 yen ticket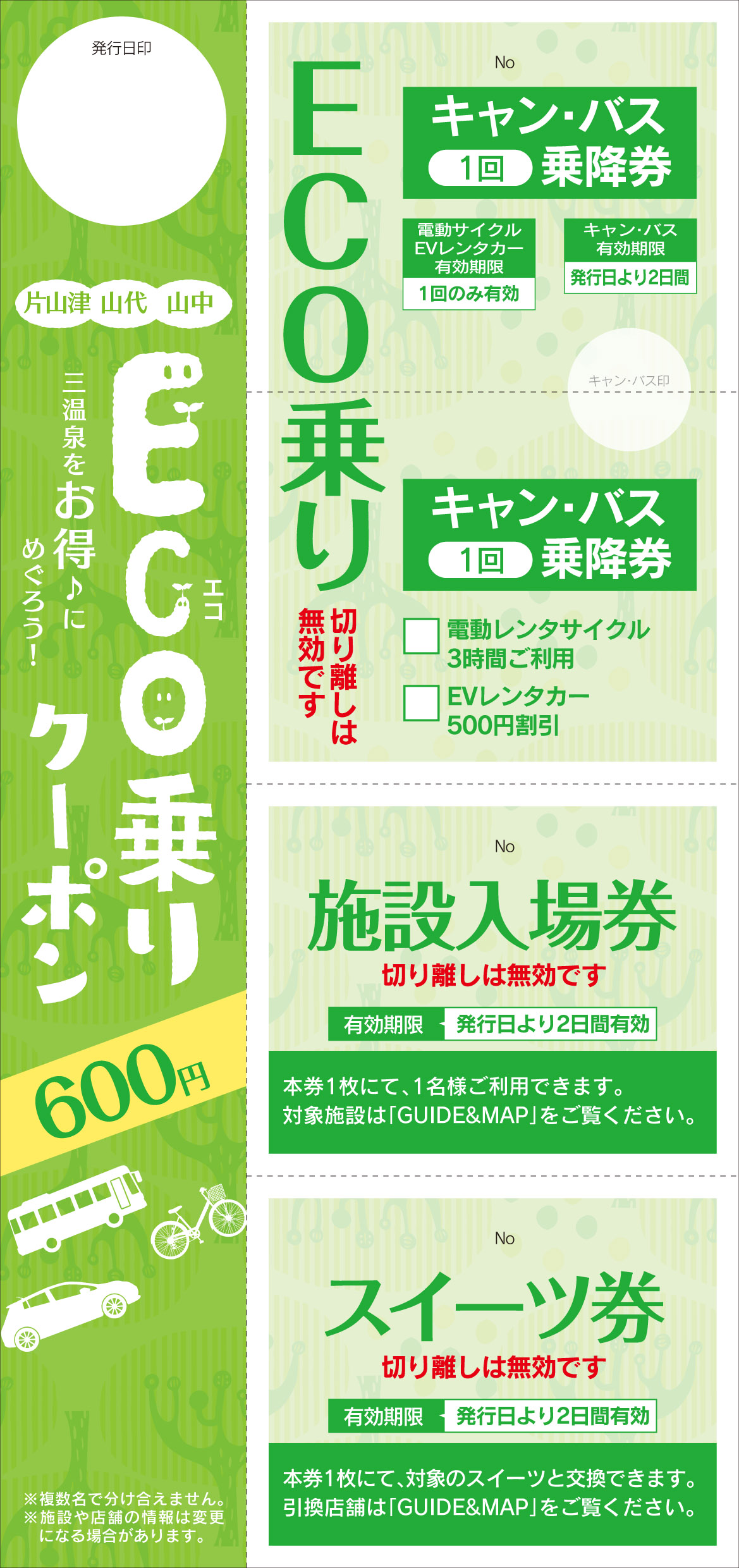 The "ECO Ride Coupon" available at Kaga Onsen-kyo (Katayamazu Onsen, Yamashiro Onsen and Yamanaka Onsen) is a set deal that includes a fun ride discount ticket, facilities admission ticket and sweets ticket.
The convenient tour coupon allows you to enjoy multiple hot springs and explore sightseeing spots with just one pass. Be sure to make use of this when visiting Kaga Onsen-kyo.
600 yen ticket: Limited to guests staying overnight at the three hot springs (There is some exclusion)
2000 yen ticket: Available for those who are not staying overnight.
Theme

Entertainment
ishikawa
| | |
| --- | --- |
| Website | http://tabimati.net/coupon/ |
| Highlight | Coupon available at Kaga Onsen-kyo (Katayamazu Onsen / Yamashiro Onsen / Yamanaka Onsen). There is a 600 yen ticket limited for guests staying overnight at the three hot springs and a 2000 yen ticket available for other visitors. |
| Experience content | A fun ride discount ticket, facilities admission ticket and sweets ticket are bundled into a one-set convenient tour coupon, allowing you to enjoy multiple hot springs and explore sightseeing spots with just one pass. |
| Tour style | Self-guided |
| Price | ECO Ride Coupon: 600 yen / ECO Ride Coupon Nuku Mobi: 2000 yen |
| Payment Method | Cash only |
| Receiving target | Individuals |
| Pamphlet | OtherInterpreters, tour guides: unavailable |
| Reservation(Need / No Needed) | 600 yen ticket outlets: Ryokans, CAN BUS, bus management offices, KAGA TABI・MACHI NET (inside JR Kaga Onsen Station) 2000 yen ticket outlets: Katayamazu Onsen Information Center, Yamanakaza, Sudani Liquor Store |
| Reservation window | TEL: +81-761-72-6678 |
| Postal code | 922-0423 |
| Contact address | Inside JR Kaga Onsen Station, Sakumi-machi Wo 6-2, Kaga City, Ishikawa Prefecture |
| Contact information | TEL:+81-761-72-6678 |
| Official website | http://tabimati.net/coupon/ |