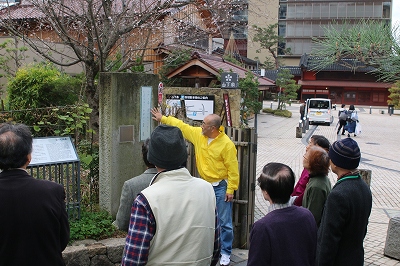 "Yunogawa", at the heart of Yamashiro Onsen is one of a few hot spring areas in Japan with its original landscape well-preserved to this day. A line of long-established ryokans surround the "Ko-soyu" which is a authentic replica of a soyu (public bathhouse) from the Meiji period.
This tour offers a kindhearted explanation by a tour guide so that you can enjoy walking around and learn the history and culture of Yamashiro Onsen. Also, the tour not only includes a guide, but also special gifts for each course. (e.g. Admission fee, souvenirs, gomagi (wooden stick upon which prayers are written) dedications at the Onsenji Temple, sweets, etc.: Varies)
A guide can be arranged according to your schedule, so you can enjoy the tour before check-in time or after check-out time.
All courses start with an explanation of Yunogawa.
Theme

Landscape
ishikawa
| | |
| --- | --- |
| Website | http://www.yamashiro-spa.or.jp/foreign/en |
| Highlight | Walk with a tour guide "Yatagarasu": History and Culture Walking Tour (3 courses) |
| Experience content | Walking tour with a tour guide (Yatagarasu). You can experience the history and culture of Yamashiro Onsen. And, each course has special gifts for you. (e.g. Admission fee, souvenirs, sweets, etc.) There is no set time of departure, so you can make a plan that suits you. |
| Tour style | Guided |
| Price | 800 yen per person |
| Payment Method | Cash only |
| Acceptable number / Program | 15 people / timeConsultation required / day |
| Publication time Opening Hours | Preferred time between 9:00 and 16:00 from April 25th, 2017 to March 31st, 2018* Gather at the resting area in Yamashiro Onsen Soyu |
| Time required for Stay , Exprerience | For about 90 to 120 minutes |
| Closed | April 28th to May 7th, June 4th to 5th, August 11th to 16th, December 21st to January 9th and facility holidays (scheduled) |
| Parking Lot | Standard cars: 20 spaces |
| Merchandise Availability / Food Availability | No |
| Receiving target | Individuals * Open to members of the industry |
| Pamphlet | No |
| Wi-fi | Available(Download the app) |
| Barrier free correspondence | No |
| Reservation(Need / No Needed) | Reservations required at least 5 days in advance |
| Reservation window | Yamashiro Onsen Kanko Kyokai TEL: +81-761-77-1144 FAX: +81-761-77-2109 Email: info@yamashiro-spa.or.jp |
| Traffic access | 15 minutes by bus from JR Kaga Onsen Station |
| Postal code | 922-0243 |
| Contact address | Yamashiro Onsen Hokubu 3-70, Kaga City, Ishikawa Prefecture |
| Contact information | TEL:81-761-77-1144 |
| Official website | http://www.yamashiro-spa.or.jp/foreign/en |