Norikura Star & Moon Restaurant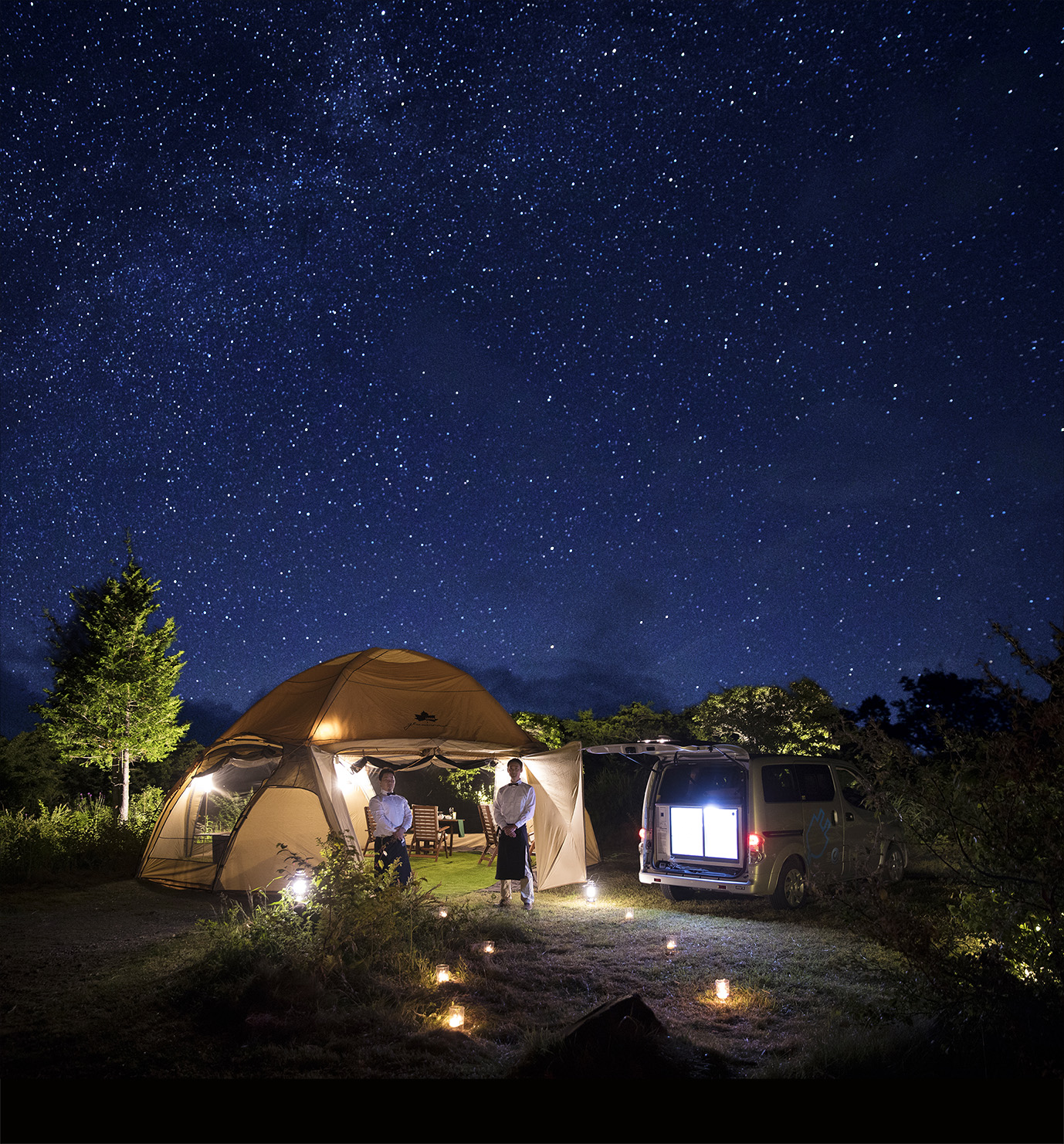 Norikura district in Matsumoto City is a healing treasure trove surrounded by an abundance of nature. Here, the soft sigh of the wind, the sound of insects and the murmuring of water can be heard if you listen carefully. The place where you can enjoy an outdoor dinner using Shinshu produce in Norikura is "Norikura Star & Moon Restaurant by Alps Sangakukyo EV Tourism". Through harnessing the power of Nissan's electric vehicle (EV), delicious food and a premium arrangement prepared with electricity can be enjoyed in the middle of the wilderness. The sounds of nature becomes the background music thanks to the quietness of the EV. Once it's dark, with weather permitting, the moonlight and twinkling stars decorate the night sky, making you feel so refreshed that you wish you could have this view forever. This is a premium plan where you receive healing from nature as you sense it with your five senses.
The Norikura district, used as the venue has been a tourist area mainly for leisure sports like skiing and snowboarding up until now. When compared to the peak season, the number of tourists drop up to 50 to 60% in non-peak seasons, making tourism expansion a major issue. By launching a new experience-based, environment-friendly kind of tourism by utilizing an EV in Norikura, which is home to the abundant nature of Chubu Sangaku National Park, the tour aims to offer people opportunities to experience the attractiveness of Norikura in a new light as to expand the exchange population and create employment for the region and promote immigration and resident settlements.
Theme

Food
nagano
| | |
| --- | --- |
| Website | http://shinshu.miraidukuri.jp/program/alpsev/ |
| Highlight | Enjoy an outdoor dinner amongst the nature of Norikura. |
| Experience content | Norikura in Matsumoto City is a healing treasure trove surrounded by an abundance of nature. This program offers a relaxing dinner outdoors using local produce at this place where the soft sigh of the wind, the sound of insects and the murmuring of water can be heard. Through harnessing the power of Nissan's electric vehicle (EV), delicious food and a premium arrangement prepared with electricity can be enjoyed in the middle of the wilderness. |
| Tour style | Guided |
| Price | 25,000 yen per person (Includes: charge fee, Shinshu Premium Beef sukiyaki dinner, drink charge, concierge service fee and insurance fee.) * For 12 years and over* An optional private plan is available |
| Payment Method | Credit card: American Express / Diners / JCB / MasterCard / Visa |
| Acceptable number / Program | 16 people / day 1 group of 2 people / time |
| Publication time Opening Hours | 17:00 to 21:00 (Opening time: 17:30) |
| Time required for Stay , Exprerience | Approx. 3 hours and 30 minutes |
| Merchandise Availability / Food Availability | Yes |
| Receiving target | Individuals / Groups |
| Pamphlet | English |
| Wi-fi | Yes (Pocket Wi-Fi) |
| Barrier free correspondence | No |
| Reservation(Need / No Needed) | Reservation required at least 3 days in advance by Email |
| Traffic access | Free courtesy pick-up from your place of stay is included. |
| Postal code | 390-1501 |
| Contact address | Azumi Onoda 122-1, Matsumoto City, Nagano Prefecture |
| Contact information | TEL: +81-263-94-2323 FAX:+81-267-46-9077 Mail:info@shinshu.miraidukuri.jp |
| Official website | http://shinshu.miraidukuri.jp/program/alpsev/ |