100 Night Views of Japan: Ubasute Night View Tour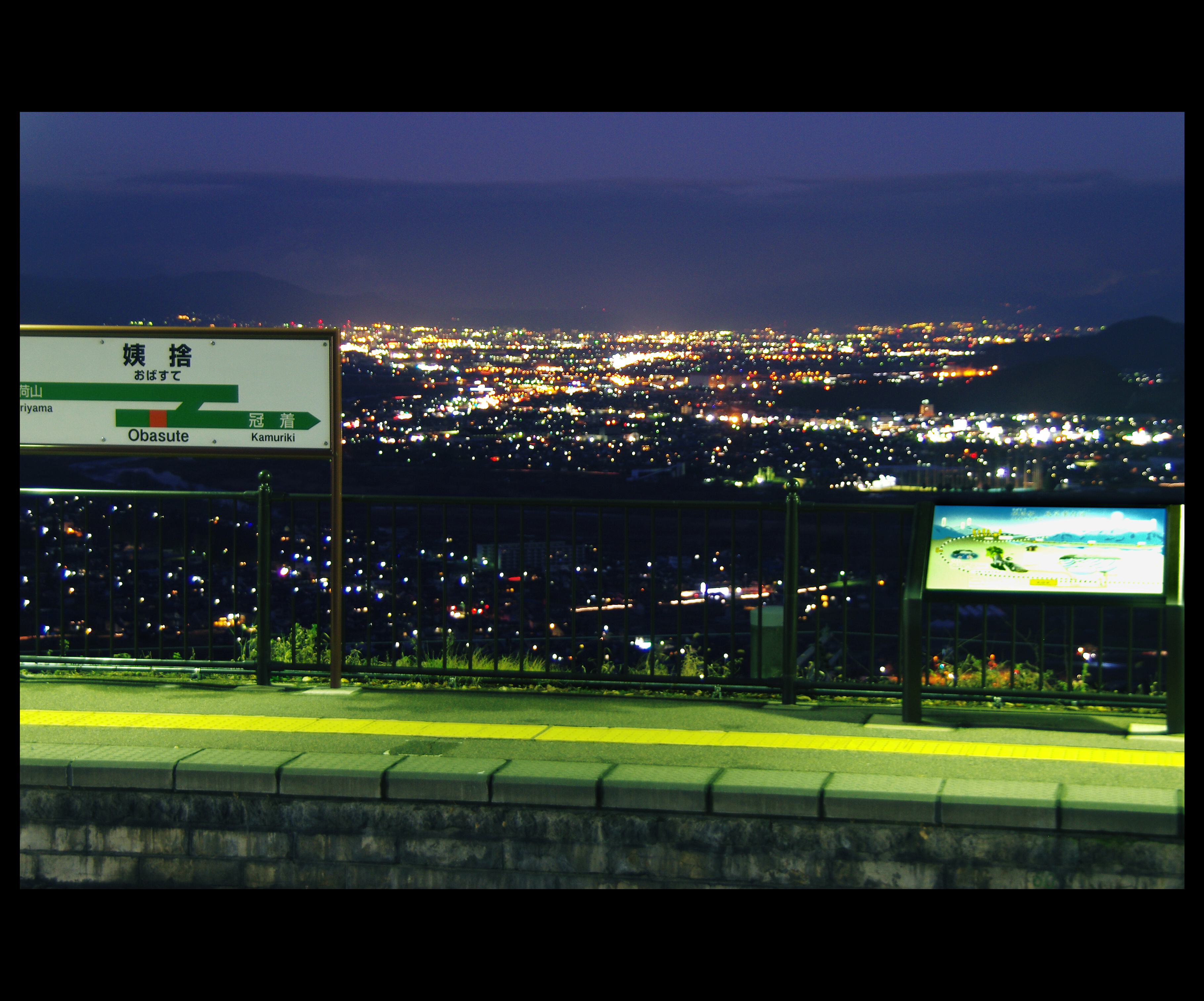 The beauty of the night view of Zenkoji Plain has been well known among local residents and those using the Nagano Expressway. When the night view from Ubasute Service Area (rest area) on Nagano Expressway' (near Ubasute Station) was selected as one of 100 Night Views of Japan in 2004, it began gaining attention as a tourist attraction. The volunteers from the neighboring "Togura Kamiyamada Onsen" created tour products to offer the view to the guests staying overnight in the Onsen area.
During the day, the view from the train windows on the JR Shinonoi Line is famous as one of "Japan's Three Best Views from a Train Window". There is also a landscape that has been selected as one of the Top 100 Terraced Rice Fields of Japan, called the "Terraced Rice Fields of Ubasute", so it's a great place to enjoy the splendid scenery by day or by night.
This landscape is also said to be a landscape with a history: in old times, it was a land that people longed to visit to admire the moon, and has been known as "Sarashina no Chi" since the Heian period. It is also the first landscape that travelers making a pilgrimage to Zenkoji Temple would see when they got through the pass.
Theme

Activity
nagano
| | |
| --- | --- |
| Website | http://chikuma-kanko.com |
| Highlight | Let's enjoy the Ubasute night view when you visit the Togura Kamiyamada Onsen ☆ |
| Experience content | You can enter Ubasute Station, ranked second nationwide in "stations worth a visit" and one of a few remaining switchback stations in Japan and enjoy a night view of Ubasute, one of the "Japan's Three Best Views from Train Widow." The splendid night view of Zenkoji Plains stretching out before your eyes has also been selected as one of "100 Night Views of Japan" (the recognized area is Ubasute Service Area on the Nagano Expressway near Ubasute Station) Tour participants will get good-old hard tickets commemorating their participation in the Ubasute Night View Tour. They will also receive a postcard of Ubasute's night view and a little Shinshu Miso from the local miso warehouse, "Misogura Takamura". |
| Tour style | Guided (Tour guide does not accompany you) |
| Price | 3,000 yen (age 13 and over) / 1,500 yen (age 6 to 12) per person Children under school age free |
| Payment Method | Cash |
| Acceptable number / Program | 20 people (minimum participants: 4 participants) Route may be changed upon consultation in advance without particular limit on the maximum number of participants. |
| Publication time Opening Hours | The schedule from April 1st, 2018 to March 31st, 2019 is as follows:Every Friday and Saturday in April, May, June, October and November.Every day in July, August and September.Every Saturday in January, February, March and December. |
| Time required for Stay , Exprerience | Approx. 90 minutes |
| Closed | July 14th and 15th, August 7th, 13th, 14th and15th and December 29th. |
| Parking Lot | Chikuma-shi Sogo Kanko Kaikan |
| Merchandise Availability / Food Availability | Yes at "Misogura Takamura" and "Obasute SA Inbound Line" |
| Receiving target | Individuals / Groups / Observation and training groups / Schools * Open to members of the industry |
| Wi-fi | No |
| Barrier free correspondence | No |
| Reservation(Need / No Needed) | Apply by 17:00 of the day via phone, fax , website or other means (reservations accepted at ryokans and hotels)Applications by the day before accepted by the above means However, same-day reservations are by phone only. |
| Reservation window | TEL: +81-26-261-0300 FAX: 81-26-261-0350 Email: dmo@chikuma-kanko.com |
| Traffic access | Take the Hokuriku Shinkansen to Ueda Station and transfer to the Shinano Railway and get off at Togura Station. 10 minutes by taxi from Togura Station. Take JR Chuo Line to Matsumoto Station and from there take JR Shinonoi Line to Ubasute Station. Take a taxi for approx. 15 minutes from Obasute Station (prior reservation required for a taxi). |
| Postal code | 89-0821 |
| Contact address | Kamiyamada Onsen 2-12-10, Chikuma City, Nagano Prefecture |
| Contact information | TEL:+81-26-261-0300 FAX:+81-26-261-0350 Mail:dmo@chikuma-kanko.com |
| Official website | http://chikuma-kanko.com |