Lake Aoki Firefly Watching Cruise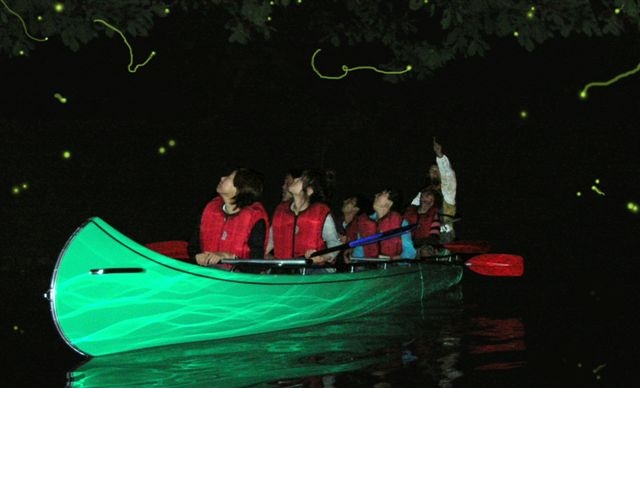 Gaze at the love story unfolding on the heart-shaped Lake Aoki between the stars and the fireflies raised in the waters of the Kakunezato glacier.
Flash photography of the fireflies is prohibited. It has negative effects on the fireflies.
The Alps, forest and the lake. The passion of love and indigo of the lake.
Gaze at the Lake Aoki fireflies on a boat.
The woods on the cape protruding into Lake Aoki transform into a giant summer Christmas tree.
The beautiful faint light of the stars pouring down from tens of thousands of light-years away and tiny lights of love from the fireflies co-perform a great illustrated story on the stage of the mirror-like, heart-shape Lake Aoki.
In mid August, bright trails from the Perseids add charm to the scene, and you can appreciate a "picturesque story" from a boat.
We lead you to the best place for admiring the fireflies.
Young and old, men and women, all those boarding the boat row together. The lights of the fireflies you see as you row together are indeed extraordinary.
Enjoy Lake Aoki's night view and starry scenery, and the unique floating feeling of rowing a canoe at night.
For the boats, we mainly use voyageur canoes, as well as inflatable canoes and raft boats.
Theme

Activity
nagano
| | |
| --- | --- |
| Website | http://www.avis.ne.jp/~aokiko/taiken/out-hotaru.htm#hotaru |
| Highlight | Gaze at the Lake Aoki fireflies by boat at 2 points. |
| Experience content | Gaze at the Lake Aoki fireflies by boat at 2 points. This evening, become a star roll of a movie and place yourself in a romantic, dreamy scene. |
| Price | No courtesy pick-up, meet directly at the venue Age 3 and over: 2,700 yen (tax included) / Private boat 32,400 yen (Except Saturdays and Sundays, and August 8th to August 18th) |
| Payment Method | Cash Credit card: American Express / Diners / JCB / MasterCard / Visa / China Union Pay card Smartphone payment apps |
| Acceptable number / Program | 112 to 200 people / day56 people / time |
| Publication time Opening Hours | July 11th to August 31st S Tour, A tour: Meeting time: 19:15 / Cruise: 19:25 to 20:20 B Tour: Meeting time: 20:00 / Cruise: 20:10 to 21:05 C Tour: Meeting time: 20:45 / Cruise: 20:55 to 21:50 |
| Time required for Stay , Exprerience | Approx. 1 hour and 5 minutes |
| Closed | According to the weather. |
| Parking Lot | Standard cars/ 100 spaces Large-sized vehicles/ 5 spaces |
| Merchandise Availability / Food Availability | Yes |
| Receiving target | Individuals / Groups / Schools * Open to members of the industry |
| Pamphlet | Chinese (Simplified and Traditional) |
| Wi-fi | Yes |
| Barrier free correspondence | No |
| Reservation(Need / No Needed) | Advance reservation required by phone, fax or Email |
| Reservation window | TEL: +81-261-23-1021 FAX: +81-261-22-0671 Email: aokiko@avis.ne.jp |
| Traffic access | Approx. 1 hour and 15 minutes by car from Azumino I.C. of the Nagano Expressway |
| Postal code | 398-0001 |
| Contact address | Taira 20780-1, Omachi City, Nagano Prefecture |
| Contact information | TEL:+81-261-23-1021 FAX:+81-261-22-0671 Mail:aokiko@avis.ne.jp |
| Official website | http://www.avis.ne.jp/~aokiko/taiken/out-hotaru.htm#hotaru |