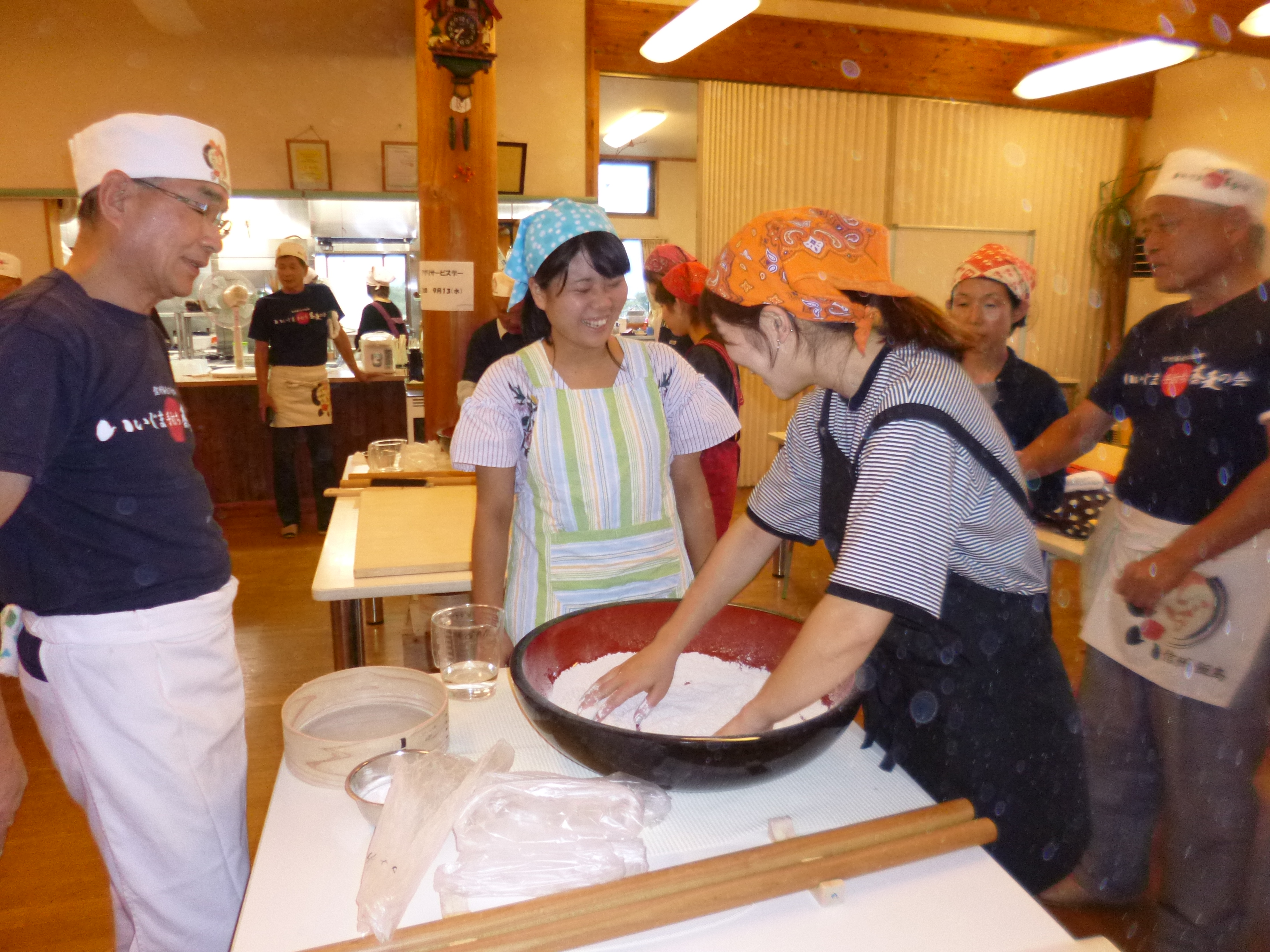 Enjoy the spectacular views of the Southern Alps from a place 800 m above sea level with a beautiful sky and fresh, clear air. Ijima Town produces a great amount of fruit, vegetables, flowers, and mushrooms, and there are no other place in the whole country with two Roadside Stations in one town.
(1) Nagano Prefecture is famous for buckwheat noodles. The variety grown here is called Shinano No.1, which accounts for more than half of Nagano Prefecture's produce. The seeds of Shinano No.1 are cultivated in the Hongo district of Iijima Town. Iijima Town has an organization called Ijima Teuchi-soba no Kai (Handmade Buckwheat Noodles Association), whose members teach hands-on workshops.
(2) A Craftspeople who specialize in rice straw are becoming fewer and fewer in number due to the aging of the population, but in Ijima Town, you can find young craftspeople from whom you can get hands-on experience making rice straw crafts, such as rice bags and cat houses. The rice bag carrying marathon is an unique activity whose participants increase every year.
(3) B You can have a farming experience on the farmland provided by Agrinature.
Popular dishes include char-grilled meat, dishes of freshly-harvested seasonal vegetables, and more.
Theme

Activity
nagano
| | |
| --- | --- |
| Website | http://www.agri-iijima.jp/ |
| Highlight | Equipped with a hands-on workshop, lodgings, and a cottage, the place is perfect for training camps, home parties, and more. |
| Experience content | In Iijima, Minami-Shinshu, Agrinature Iijima is located in a town which overlooks the two Alps mountains. With trekking around country-side forest, hands-on workshops where you can enjoy a variety of farming experiences, along with lodgings and a cottage available, the place is perfect for training camps, and home parties, and more. Overnight parties are also possible. |
| Price | Varies |
| Payment Method | Cash |
| Acceptable number / Program | 10 people |
| Publication time Opening Hours | 9:00 to 17:00 |
| Time required for Stay , Exprerience | Varies |
| Closed | Wednesday |
| Parking Lot | 10 spaces |
| Merchandise Availability / Food Availability | Yes |
| Receiving target | Individuals Groups Observation and training groups Schools |
| Pamphlet | No |
| Wi-fi | Yes |
| Barrier free correspondence | Yes |
| Reservation(Need / No Needed) | Reservations required; call between 9:00 to 17:00 |
| Reservation window | TEL: +81-265-82-6072 FAX: +81-265-82-0057 |
| Traffic access | 2 minutes from Iijima bus stop on the express way by car / approx. 5 minutes' walk or 20 minutes from Matsukawa I.C. of the Chuo Expressway |
| Postal code | 399-3702 |
| Contact address | Iijima 3907-1636, Ijima Town, Kami-Ina County, Nagano Prefecture |
| Contact information | TEL:+81-265-86-6072 FAX:+81-265-96-0057 Mail:info@agri-iijima.jp |
| Official website | http://www.agri-iijima.jp/ |