Paradise in the Sky Sea of Clouds Harbor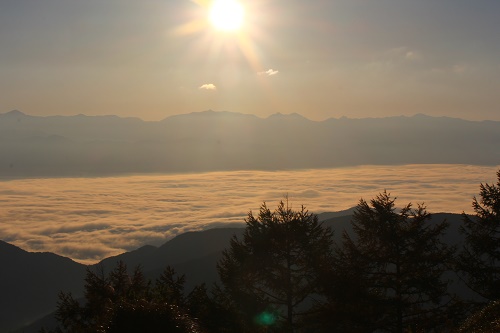 In FY2006, Achi Village ranked in 1st place in the Star Watching Network, a simultaneous nation-wide star observation activity run by the Ministry of the Environment. This place is where you can see the most brilliant stars in the country. Fujimidai Highlands Heavens Sonohara in nature-rich Shinshu Achi Village offers programs where you can enjoy nature, including a starry sky and sea of clouds, throughout the year.
In spring, summer, and autumn, you can enjoy the starry sky tour. This tour takes you on a ropeway with a total length of 2,500 m, which climbs 600 m over in about 15 minutes, to the point of 1,400 m above sea level. No lights from the town reach the summit, and the installed lightings will go out all at once by a signal. And then, countless stars that feel so close you could almost touch them shine in the sky; a splendid view that you could never see in town. Under the star-studded sky, a guide will offer commentary related to astronomy and an original movie will be played.
In autumn, catch the "sea of clouds" spreading far across the the Southern Alps. Breathtaking scenery worthy of the name "Paradise in the Sky" awaits you. The quiet night of twinkling stars slowly being enveloped by the warm morning glow, the autumn foliage setting the mountains ablaze in red starting in October, and the snow-capped Southern Alps in November. You will find many moments of wonder in the special opening.
In winter, the place transforms into an entertainment park with hands-on experiences under the themes of "stars" and "space." With narration, in the motif of a "space colony," the integrated space offers a variety of attractions related to stars and space including a 360-degree starry sky space, star-themed food and drinks, and interactive contents using technology, taking the visitors into otherworldly experiences.
Theme

Activity
nagano
| | |
| --- | --- |
| Website | http://sva.jp/unkai/ |
| Highlight | Catching the sight of the sea of clouds at Fujimidai Highlands Ropeway Heavens Sonohara in Shinshu Achi Village. |
| Experience content | When a low-pressure system passes through the mountains increasing the humidity, and radiative cooling chills the ground surface during the night, the air cools down as a result, and the moisture in the air becomes fog, creating the sea of clouds. Catch the sight of the sea of clouds at Fujimidai Highlands Ropeway Heavens Sonohara in Shinshu Achi Village. |
| Tour style | Self-guided |
| Price | Adults age 16 and over: 3,500 yen / Age 6 to 15: 1,700 yen / Children under school age: Free |
| Payment Method | Cash |
| Acceptable number / Program | 1000 people |
| Publication time Opening Hours | From 5:00 |
| Time required for Stay , Exprerience | 120 minutes |
| Closed | No (During the season) |
| Parking Lot | Standard cars/ 1,500 spaces Large-sized vehicles/ 50 spaces |
| Merchandise Availability / Food Availability | Yes |
| Receiving target | Individuals / Groups / Observation and training groups / Schools * Open to members of the industry |
| Pamphlet | No |
| Wi-fi | Yes |
| Barrier free correspondence | No (However, arrangements can be made for wheelchairs, etc.) |
| Reservation(Need / No Needed) | Tickets are to be purchased at the ticket gate. |
| Traffic access | Approx. 10 minutes from Sonohara I.C. of the Chuo Expressway |
| Postal code | 395-0304 |
| Contact address | Chisato 3731-4, Achi Village, Shimo-Ina County, Nagano Prefecture |
| Contact information | TEL:0265-44-2311 |
| Official website | http://sva.jp/unkai/ |