Fish Town Walk (A walk around a Showa fishing town)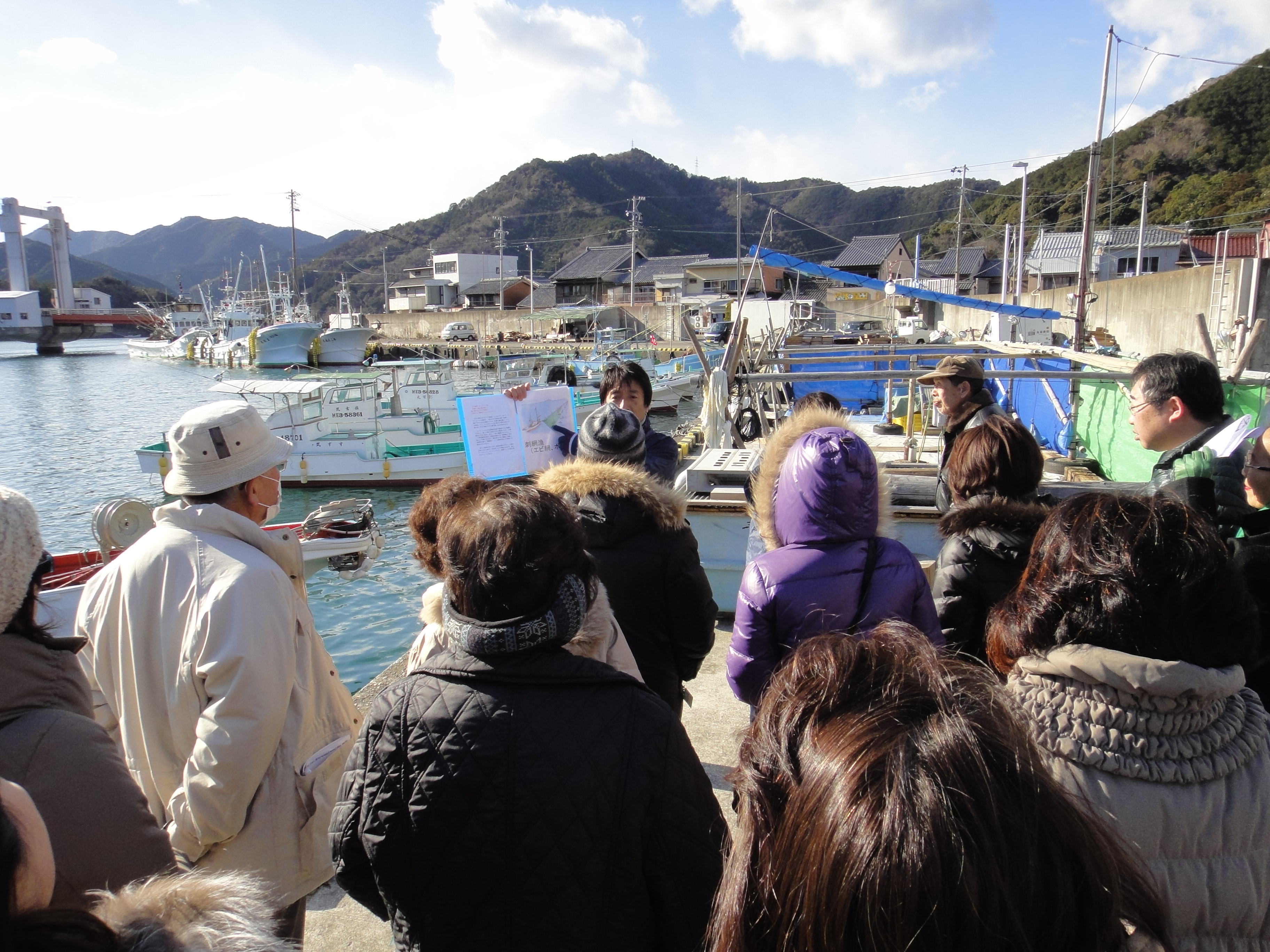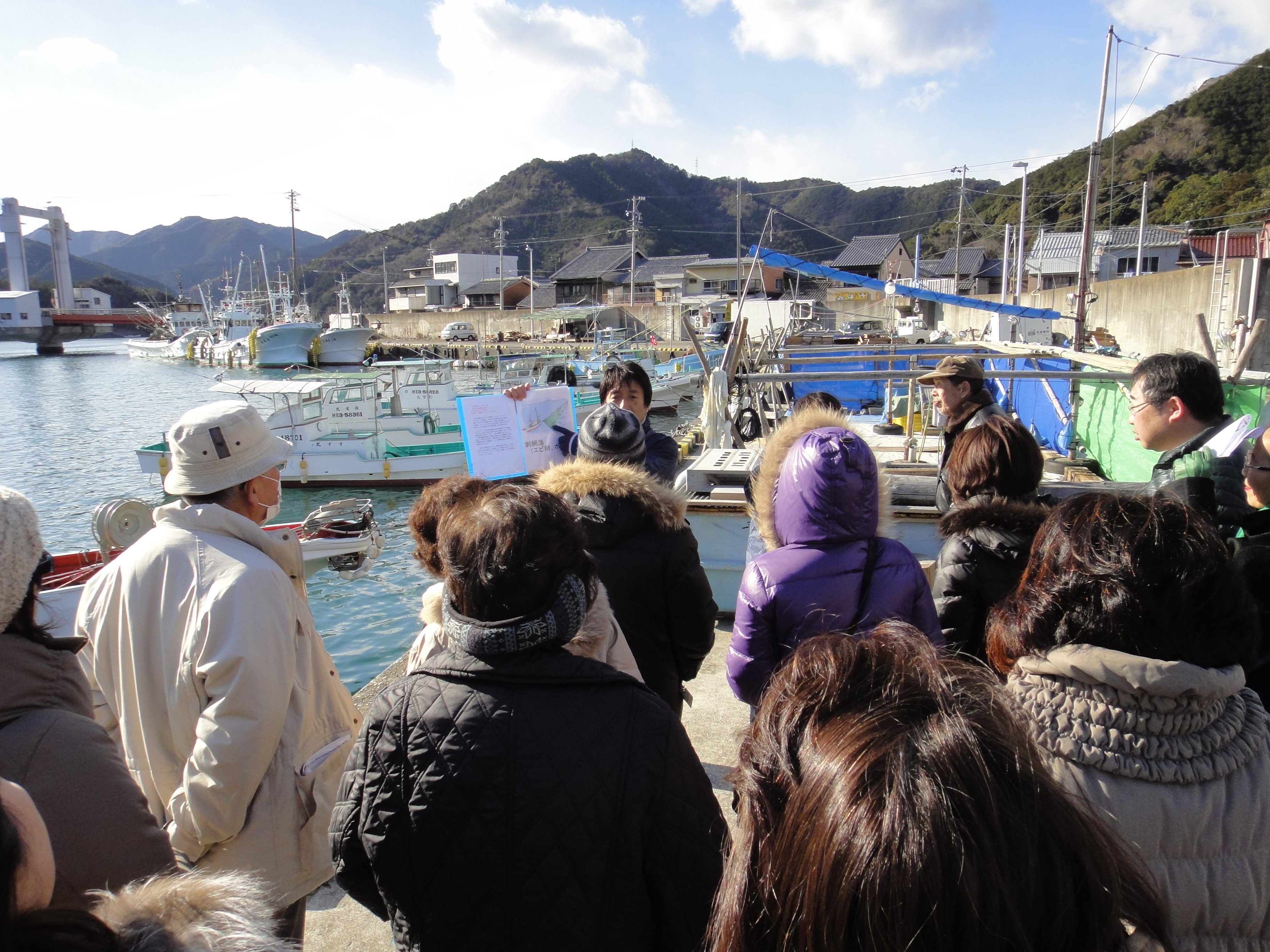 The townscape of Nagashima, facing Nagashima Port, which boasts one of the biggest hauls in the prefecture, strongly retains the atmosphere of an old fishing town. "Kodo Uomachi Arukankai" was born from the locals' passions to get people to experience the warmth of the fishing town while walking around the "Uomachi (fish town)." Signboards with illustrations of ocean sunfish have been installed at 62 points around the town, making it fun to walk around with a illustrated map at hand. You will feel even more of the town's ambiance as you listen to the history and legends and folktales of the sea and rivers if you walk with the "Uomachi Guides."
You can see the scenery of a fishing village: The morning fish market, the bridge going up and down every time a boat crosses, fish drying in the sunlight, and more.
Theme

Life / Culture
mie
| | |
| --- | --- |
| Website | http://kihoku-kanko.com/activity/4355/ |
| Highlight | Walk with a guide around a traditional fishing town Kii-Nagashima district, "Uomachi." |
| Experience content | Stroll around spots such as the lift bridge that gives way to boat traffic, Nagashima-jinja Shrine with a large camphor tree, the narrow alleys called "Ai" by the local people, and more. |
| Tour style | Guided |
| Price | 400 yen |
| Payment Method | Cash |
| Acceptable number / Program | 5 to 20 people / day*Larger groups, please inquire |
| Publication time Opening Hours | 8:00 to 11:00 / 14:00 to 17:00 *Reception hours: Reserve at least 10 days before the tour date |
| Time required for Stay , Exprerience | Changes can be made depending on the request. |
| Closed | Unscheduled holidays |
| Parking Lot | Yes (Information to be provided at the time of application) |
| Merchandise Availability / Food Availability | Yes |
| Receiving target | Individuals Groups Observation and training groups Schools * Open to members of the industry |
| Pamphlet | EnglishEnglish-speaking guide available |
| Wi-fi | No |
| Barrier free correspondence | No |
| Reservation(Need / No Needed) | Reservation required by phone or FAX |
| Reservation window | TEL: +81-597-46-3555 FAX: +81-597-46-3556 Email: info@kihoku-kanko.com |
| Traffic access | Get off the expressway at Kii-Nagashima I.C. and head south on R42 Exit the Nagashima Tunnel and turn left at the traffic light. Follow the road for approx. 1 minute. |
| Postal code | 519-3204 |
| Contact address | Higashi-Nagashima 24109-73, Kihoku Town, Kitamuro County, Mie Prefecture |
| Contact information | TEL:+81-597-46-3555 FAX:+81-597-46-3556 Mail:info@kihoku-kanko.com |
| Official website | http://kihoku-kanko.com/activity/4355/ |