Kawabune Experience "Kumano River Experience Sandanbo"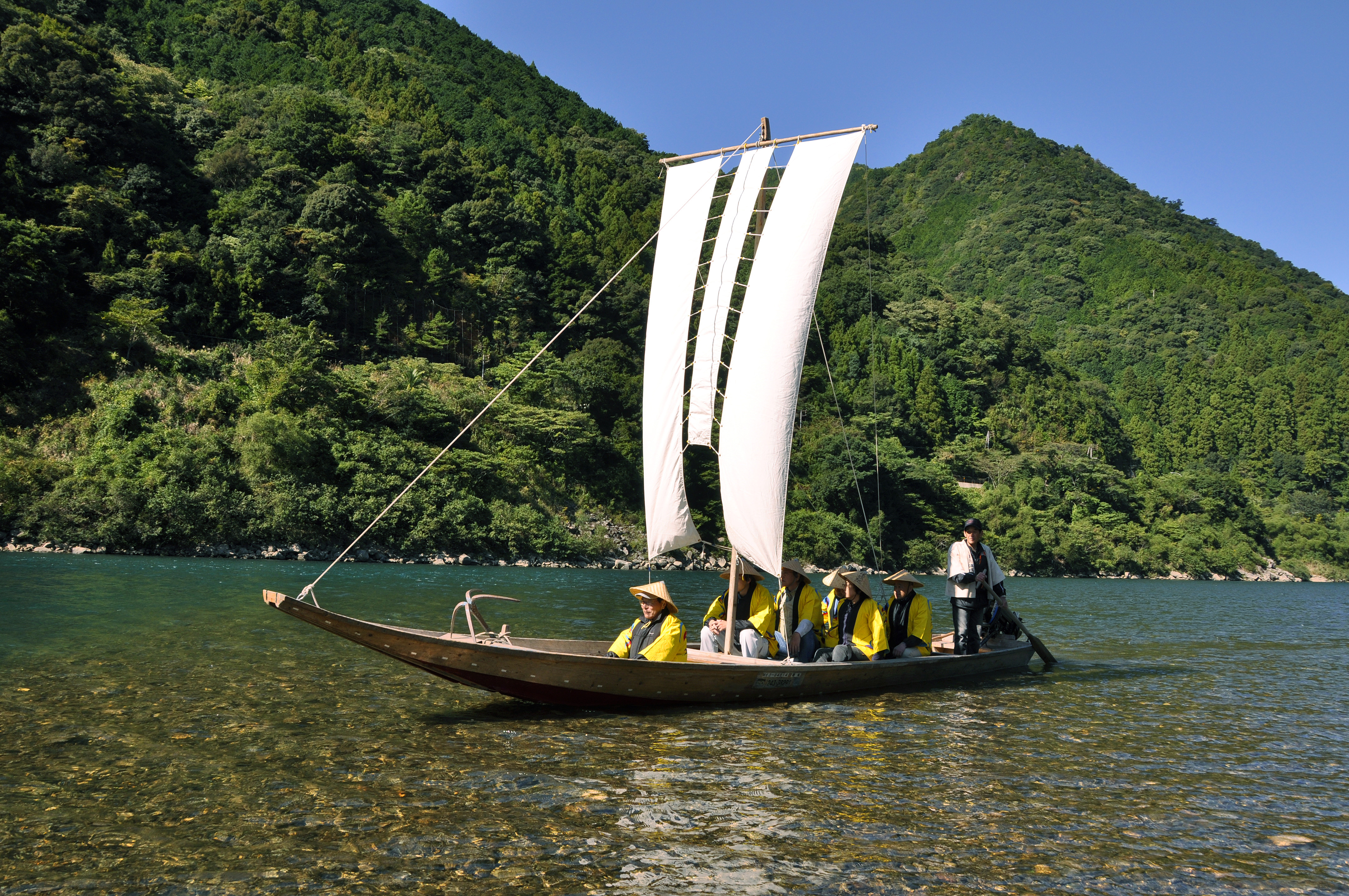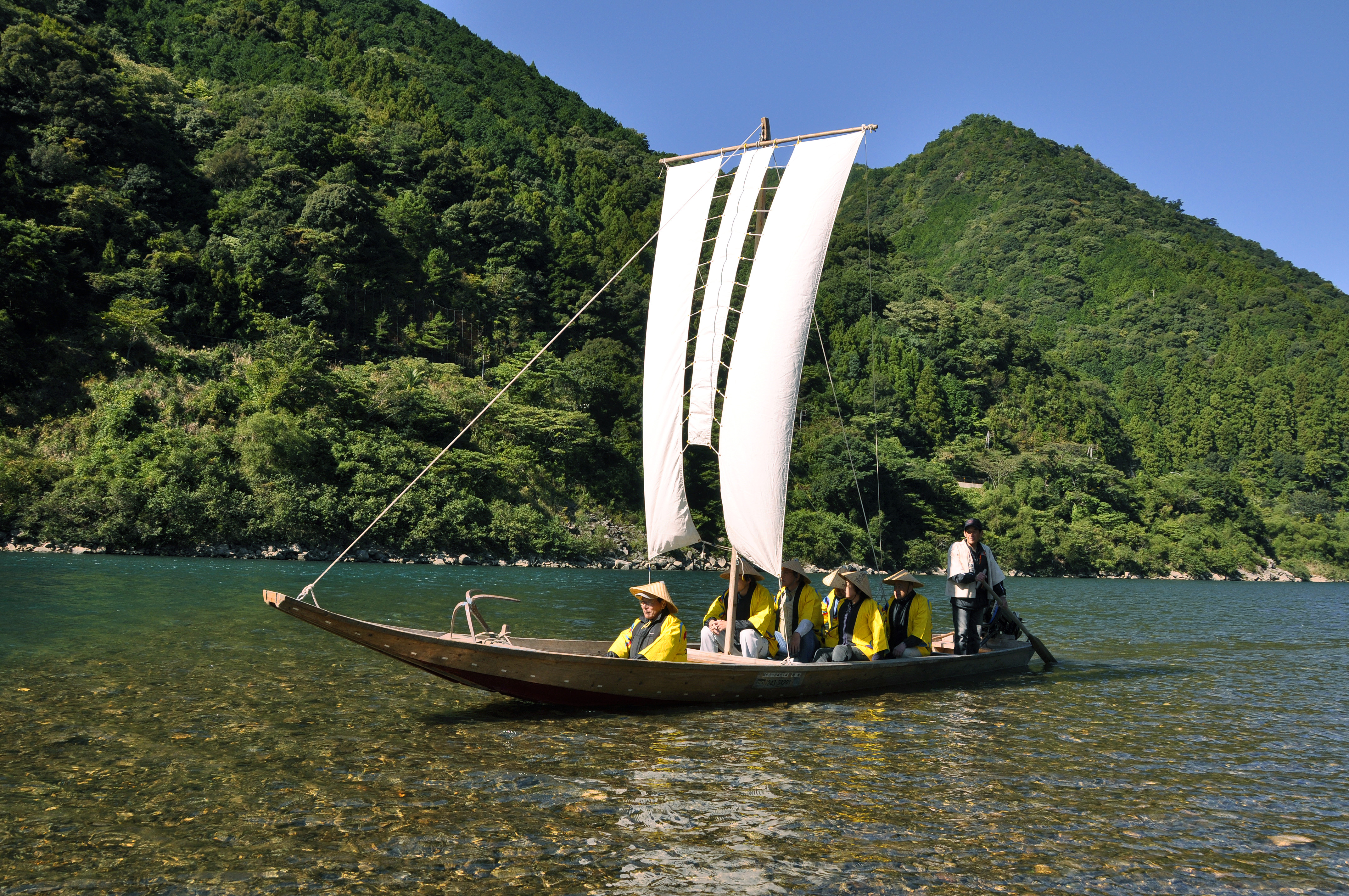 Kumano River, in Mie Prefecture's Kiho-cho, is the world's only "river pilgrimage route" and is part of the World Heritage-listed Sacred Sites and Pilgrimage Routes in the Kii Mountain Range. As well as carrying pilgrims between Kumano Hayatama Shrine and Kumano Hongu Shrine, two of the three Kumano Grand Shrines, Kumano River was also used by local residents to transport timber, charcoal, and other everyday necessities.
In those days, river boats, or kawabune, with three sails, called "sandanbo" plied these waters.
8.6 meters long and 1.6 meters wide, these sandanbo had a number of features to help them withstand the rapid currents of Kumano River, including:
・ a steep upward curve in the bow; and
・ sloping sides.
These sturdy vessels were built to handle conditions such as fast rapids, strong winds, and shallow waters.
Three canvas sails strung on a mast approximately 5 meters tall allow the boats to catch the wind and move forward without the need for an engine, so passengers can listen to the sounds of the water and birdsong as they experience the natural beauty of Kumano River.
Theme

Activity
mie
| | |
| --- | --- |
| Website | http://www.za.ztv.ne.jp/w58yd3jb/reserve.html |
| Highlight | Kumano River Sandanbo (river boat) experience, propelled by the wind on the river. |
| Experience content | Walk along the Senjigaeri path along the river's edge, experience bamboo craft, shrimp fishing, and strolls around the Asari area, and savor the seasonal tastes of the local produce. |
| Tour style | With guide |
| Price | Experience Fee: 5,000 (per person), includes lunch. Boat charter: 35,000 |
| Payment Method | Cash |
| Acceptable number / Program | From 4 people at a time |
| Publication time Opening Hours | Please contact us. |
| Time required for Stay , Exprerience | Approx. 5 hours |
| Merchandise Availability / Food Availability | Available |
| Receiving target | Groups Observation/training groups |
| Reservation(Need / No Needed) | Telephone or fax bookings required |
| Reservation window | TEL:+81-735-21-0314 FAX:+81-735-21-0313 |
| Traffic access | JR Limited Express Nanki: From Nagoya to Shingu (approx. 3 hours); Municipal Bus: From Shingu to Kihocho (approx. 15 min.) |
| Postal code | 519-5716 |
| Contact address | 203 Kitahizue, Kiho, Minamimuro-gun, Mie Prefecture |
| Contact information | TEL:+81-735-21-0314 FAX:+81-735-21-0313 Mail:w58yd3jb@za.ztv.ne.jp |
| Official website | http://www.za.ztv.ne.jp/w58yd3jb/ |