Headwaters Adventure Tour (Shower Climbing, Canyoning)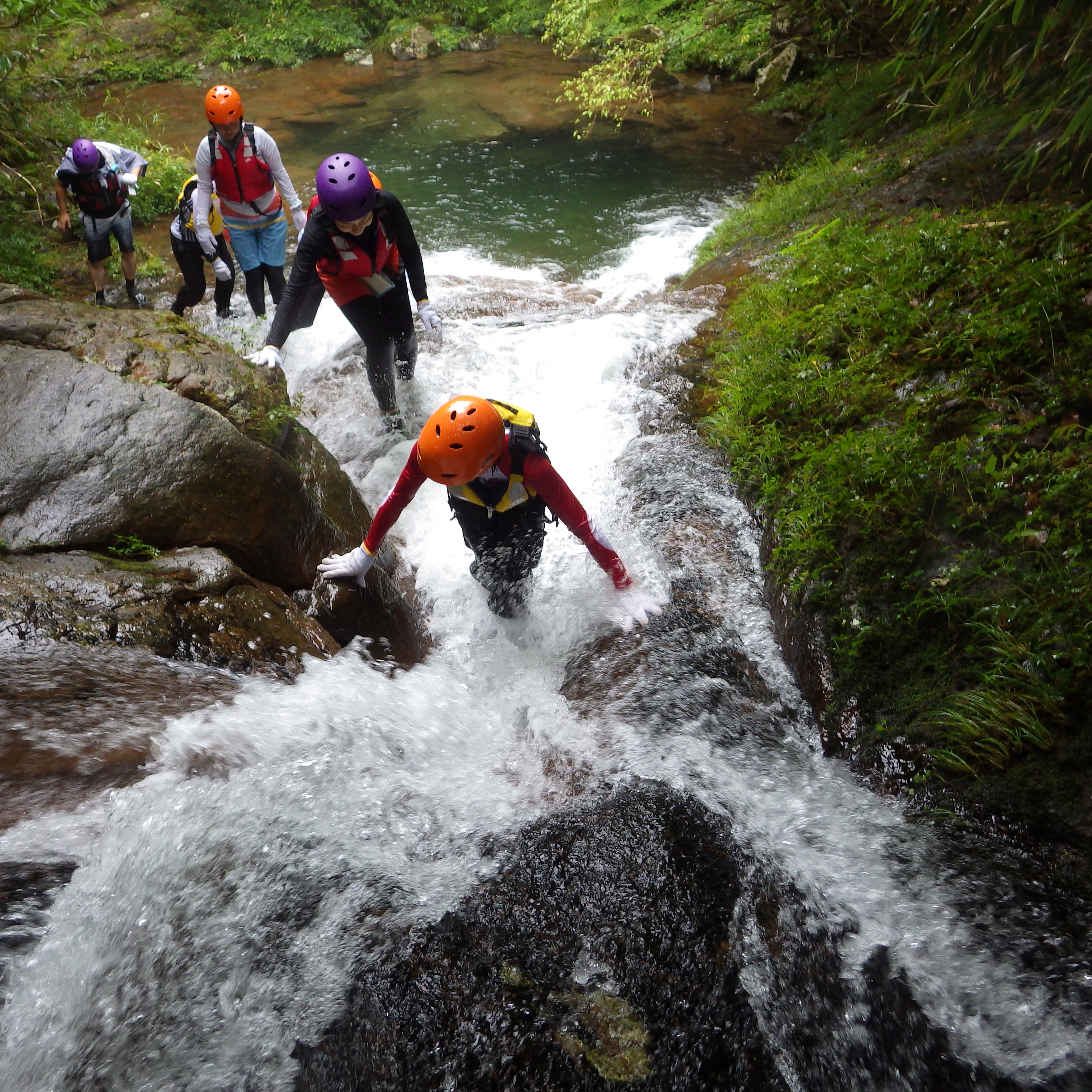 Experience going up and down the headwaters and mountain streams of the Akame Ravine.
Activities include shower climbing and canyoning, as it's called, and persons aged 10 and over can join. This is an exciting headwaters experience where participants will slide down waterfalls over 10 m high and dive under waterfalls.
Survival experiences, such as catching small fish using bamboo branches made into fishing rods, can also be enjoyed.
Theme

Activity
mie
| | |
| --- | --- |
| Website | http://www.akame48taki.com/info/category/%e3%82%a8%e3%82%b3%e3%83%84%e3%82%a2%e3%83%bc/%e8%b5%a4%e7%9b%ae%e6%b8%93%e8%b0%b7%e6%ba%90%e6%b5%81%e5%86%92%e9%99%ba%e3%83%84%e3%82%a2%e3%83%bc/ |
| Highlight | Walk around the headwaters of the 48 waterfalls of Akame. |
| Experience content | Climbing on huge rocks, swimming in a natural pool, diving into a deep chasm! Slide down the waterfall over 10 m high. |
| Tour style | Guided |
| Price | Adults: 4,500 yen (15 and over)14 and under: 4,000 yen |
| Acceptable number / Program | 7 People / time 14 People / day |
| Publication time Opening Hours | 9:30 to 12:30, 13:30 to 16:30(from July 1 to September 30) |
| Time required for Stay , Exprerience | Approx. 3 hour and 30 minutes |
| Closed | None during the period |
| Receiving target | Individuals Groups |
| Wi-fi | Yes |
| Reservation(Need / No Needed) | Reservation required by the day before via phone or on website |
| Reservation window | TEL: +81-595-64-2695 |
| Traffic access | From Kintestu Akameguchi Station, take the bus and get off at Akame Shijouhachi-taki, then walk 1 minute. |
| Postal code | 518-0469 |
| Contact address | Nagasaka 671-1, Akame-cho, Nabari City, Mie Prefecture |
| Contact information | TEL:+81-595-64-2695 FAX:+81-595-64-2695 Mail:ecotour@akame48taki.com |
| Official website | http://ninja-valley.com/ |