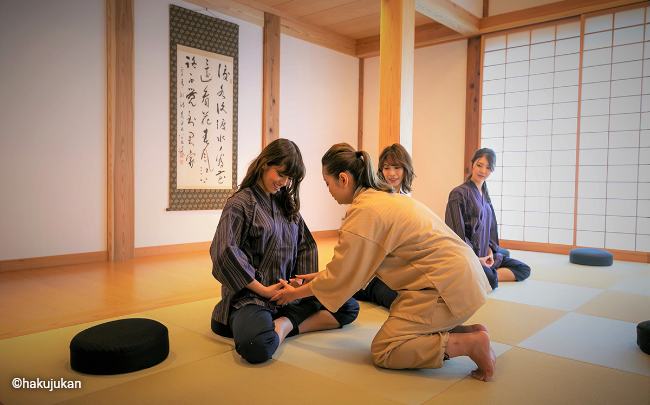 Hakujukan, located at the entrance of the approach to Eiheiji Temple, is a modern Japanese style hotel that opened in July 2019. The building uses "Eiheiji cedar" cut from the grounds of the temple, providing the guests with a relaxing experience surrounded by wood.
The hotel hosts a Zen experience through meditation and other hands-on activities, as well as traditional Buddhist cuisine. Eiheiji Temple is said to have a rigorous Zen training, but the activities for guests are still suitable for beginners. A "Zen Concierge" will welcome and guide you through the experience during your stay. The Zen experience is optional and you are, of course, welcome to stay as a regular guest.
Guests can choose between a traditional Buddhist vegetarian meal or a Japanese cuisine that includes meat and fish. Be sure to take a dip in their beautiful indoor and open-air baths. Guests are also welcome to join the morning service amongst real Buddhist monks held at Eiheiji Temple!
Theme

Life / Culture
Fukui