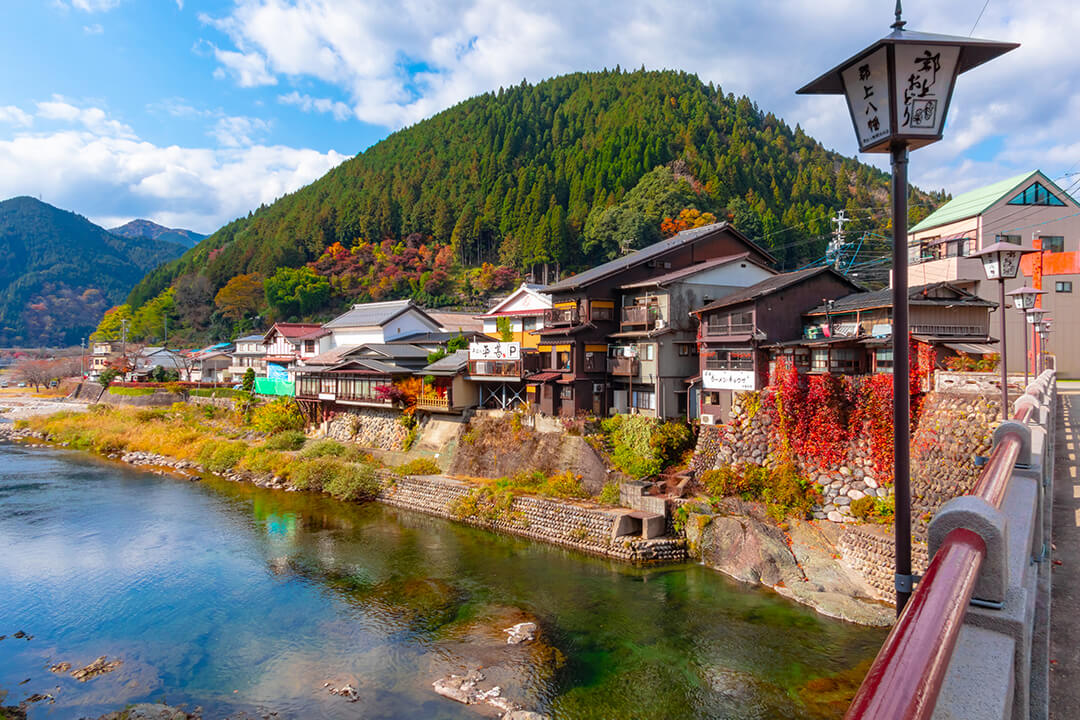 Located upstream of the Nagara River, Gujo Hachiman is known for its clear water and water channels that run throughout the town. Their historical summer festival features the Gujo Odori dance, one of Japan's top three "bon-odori" summer dances.
High up on Mount Hachiman, rising to the northeast of downtown Gujo Hachiman, stands Gujo Hachiman Castle which overlooks the town and surrounding mountains. From early to mid-November, the area around the castle turns bright red with autumn leaves.
In the town, you will find rows of old houses and waterways running past the eaves of the houses as you walk along the streets of the craftsman and blacksmith districts. Stumble upon Watanabe Somemono Dyehouse, which continues a revered 430-year-old tradition of producing natural indigo dyed fabrics. These use traditional techniques that date back to the Edo period (1603-1868), making for a product that can be cherished and last a long time.
The houses in Yanagimachi, with their distinctive sleeve walls that extend out to partition neighboring houses, retain the atmosphere of a traditional samurai town. Visitors can experience a townscape and lifestyle that has not changed since the Edo period (1603-1868) — for those considering a stay, you can find 'kominka' (traditional Japanese houses) available to rent or stay overnight.
Theme

Life / Culture
Gifu