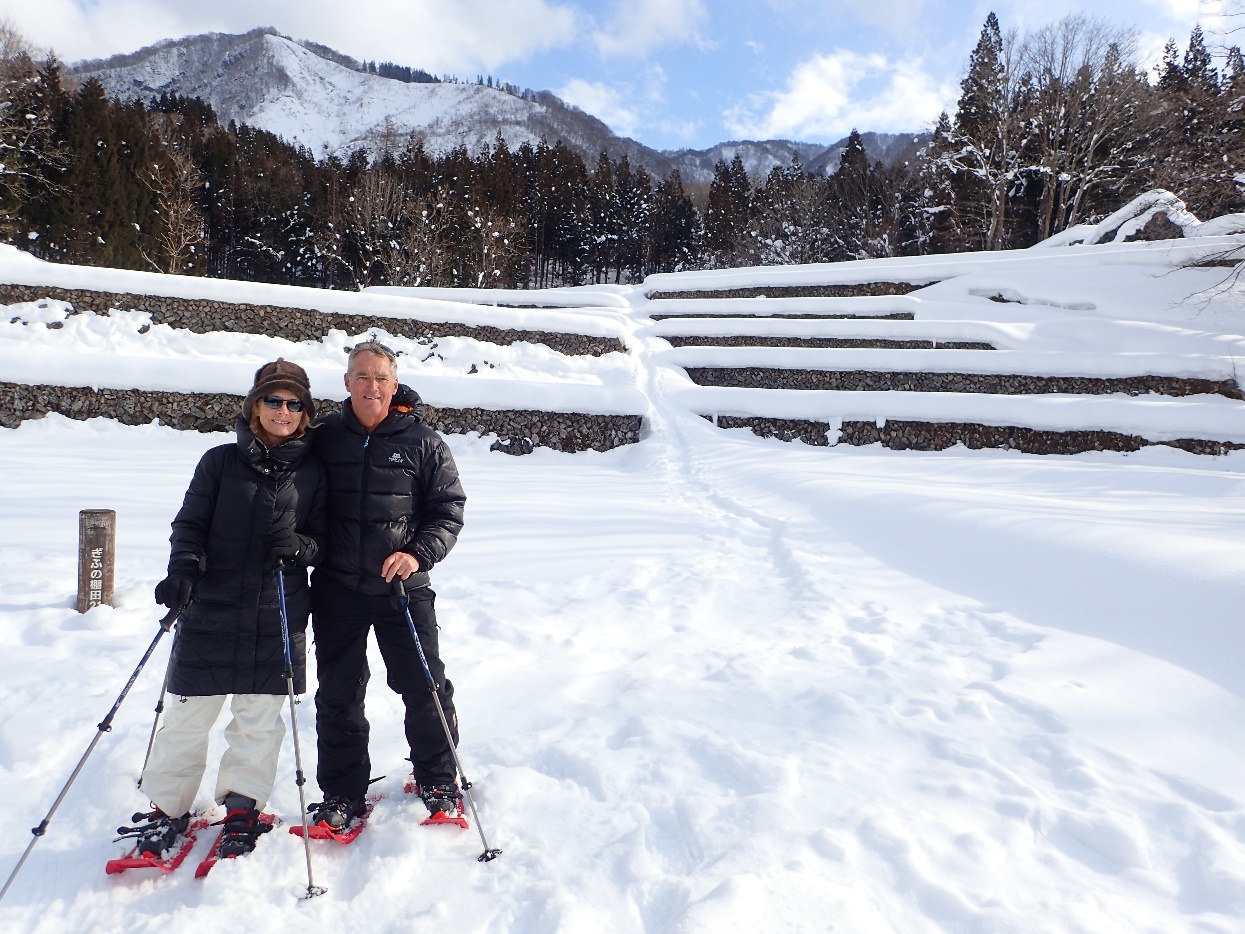 At an elevation of 1300 m above sea level spreads the white, snowy world of Shinhotaka, surrounded by the Japan Alps.
When the snow piles up, steep slopes, paths usually covered in bamboo grass, all become invisible. The fun of snowshoeing comes from traveling these paths-without-paths.
Lying down on the soft snow and taking deep breaths in the calm is also a joy of snowshoeing.
The tour finishes at 13:00, and after the tour, you can take a ropeway up the mountain to an elevation of 2156 m and enjoy a nearby hot spring; this is one more thing to enjoy.
* A value bus package that includes bus tickets from Takayama is also available.
Theme

Activity
gifu
| | |
| --- | --- |
| Website | https://satoyama-experience.com/jp/winter/ |
| Highlight | Let's take a walk on the light and fluffy snow! |
| Experience content | Enjoy activities that can only be done in the winter. Walk through a forest that can only be accessed once the snow piles up, look for animal footprints, and more. Shinhotaka snowshoes are ready and available to help you enjoy nature. |
| Tour style | Guided |
| Price | 9,300 yen per person |
| Payment Method | Cash Credit card: MasterCard / Visa |
| Acceptable number / Program | 10 people |
| Publication time Opening Hours | 10:20 to 13:00 on December 22 to 29, 2017 and January 4 to March 5, 2018 (2018 winter TBA) |
| Time required for Stay , Exprerience | Approx. 2 hour and 30 minutes |
| Closed | Year-end and New Year's |
| Parking Lot | No (Public parking spaces available) |
| Merchandise Availability / Food Availability | Yes |
| Receiving target | Individuals * Open to members of the industry |
| Pamphlet | English Interpreters, tour guides: English Available |
| Wi-fi | No |
| Barrier free correspondence | No |
| Reservation(Need / No Needed) | Reservations required, by 9:00 the day before via the website |
| Traffic access | Meet at Shinhotaka / Shinhotaka Ropeway Shinhotaka Onsen Station (Kansaka 710-58, Oku-Hida Onsen-go, Takayama City, Gifu Prefecture) |
| Postal code | 509-4235 |
| Contact address | Ninomachi 8-8, Furukawa-cho Hida City, Gifu Prefecture |
| Contact information | TEL:+81-577-73-5715 FAX:+81-577-73-5717 Mail:reservation@satoyama-experience.com |
| Official website | https://satoyama-experience.com/jp/activity/winter/tour/village-snowshoeing/ |