Goshikigahara Guided Tour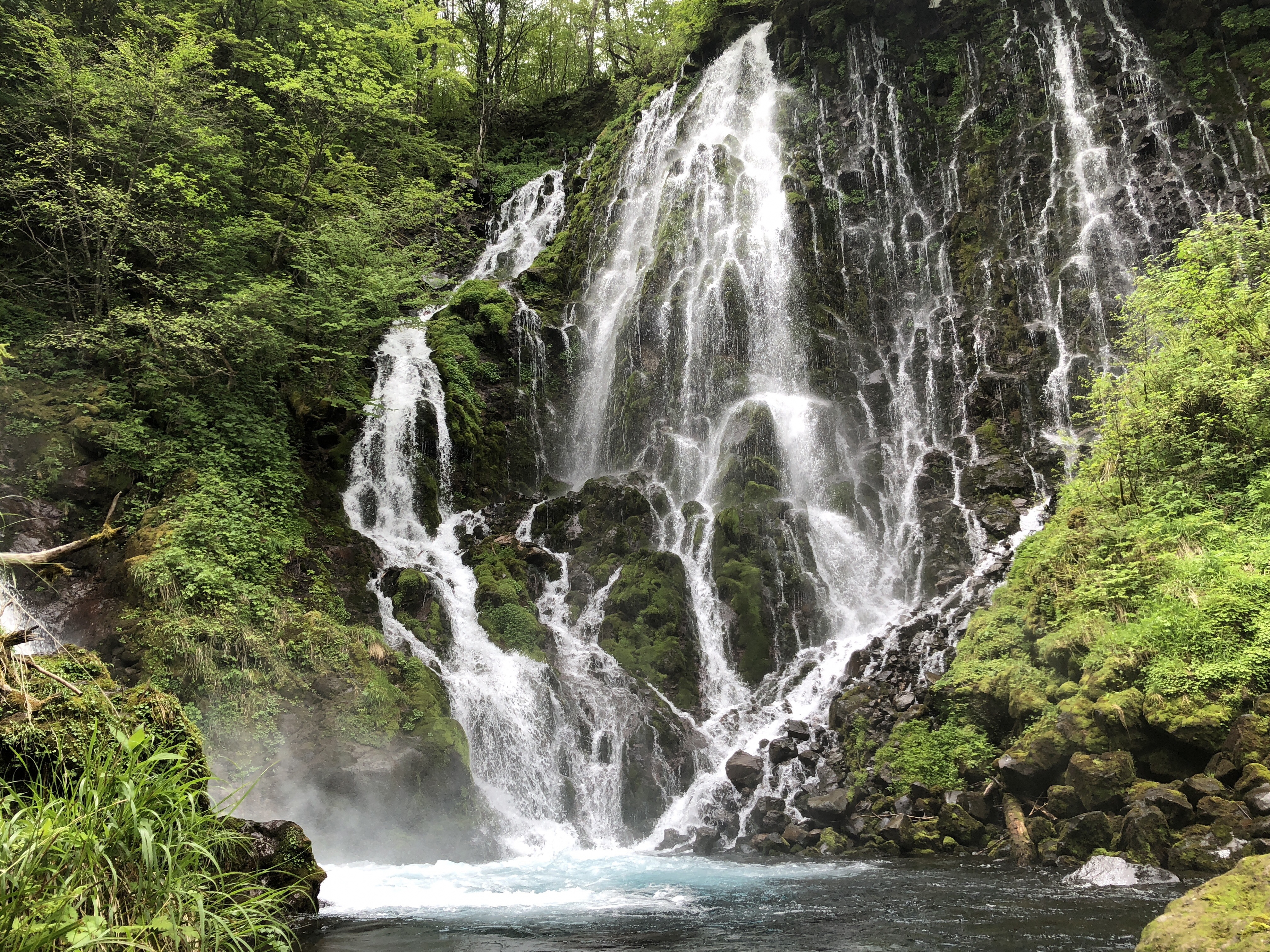 The Kamoshika Course goes through the middle of a forest with many Japanese wingnut trees. The path has many ups and downs. You think you hear the roaring sound of a waterfall, and the next moment, a magnificent waterfall suddenly appears from between the trees.
The conditions around the waterfall are too harsh for plants to grow, with many sharp rocks and little soil. In spite of these circumstances, herbaceous plants that prefer the waterside bloom beautifully as though celebrating a short summer. This space offers a different air from the middle of the forest.
The Shirabiso Course offers a variety of sceneries depending on the season. In spring, the ponds scattered throughout the area are full of meltwater from Mt. Norikura, and reflect the green mountains and blue sky in beautiful contrast. Serenity reigns here. While strolling around the ponds, visitors can enjoy two courses: A course with few ups and downs, where you can see and hear water streaming through the mushroom-covered rocks, and a course where you can see the beautiful flowering plants of Wasabidaira Wetlands.
Theme

Landscape
gifu
| | |
| --- | --- |
| Website | http://kankou.city.takayama.lg.jp/s/2000003/2000035.html |
| Highlight | Walk through an old-growth forest with a guide. |
| Experience content | Reservation-only guided tour of the old-growth forest in the Chubu Sangaku Natural Park, spanning approx. 3,000 ha., featuring magnificent waterfalls, ponds, and wetlands. |
| Tour style | Guided hiking tour |
| Price | 9,000 yen per person (for groups of 6 or more) |
| Payment Method | Cash |
| Acceptable number / Program | 150 people |
| Publication time Opening Hours | From 7:00 to 16:30 |
| Time required for Stay , Exprerience | Kamoshika Course / Waterfalls: (Duration 1 day, approx. 8 hours)Shirabiso Course / Ponds: (Duration 1 day, apporx. 8 hours) |
| Closed | Every Sunday from November 1st to May 19th |
| Parking Lot | Standard cars: 1,700 spacesLarge-sized vehicles: 20 spaces |
| Merchandise Availability / Food Availability | No |
| Receiving target | Individuals Groups Observation and training groups Schools * Open to members of the industry |
| Pamphlet | Interpreters, tour guides: 2 English guides are available |
| Wi-fi | No |
| Barrier free correspondence | No |
| Reservation(Need / No Needed) | Reservations required 10 days in advance |
| Reservation window | TEL: +81-577-79-2280 Email: info@goshiki2004.com |
| Traffic access | 45 km from Gero Onsen via National Route 41 |
| Postal code | 506-2252 |
| Contact address | Kute 471-3, Nyukawa-cho, Takayama City, Gifu Prefecture |
| Contact information | TEL:+81-577-79-2280 FAX:+81-577-79-2888 Mail:yama_goshiki@live.jp |
| Official website | http://goshiki2004.com/ |