Pleasure Boat Cruise of Sotomo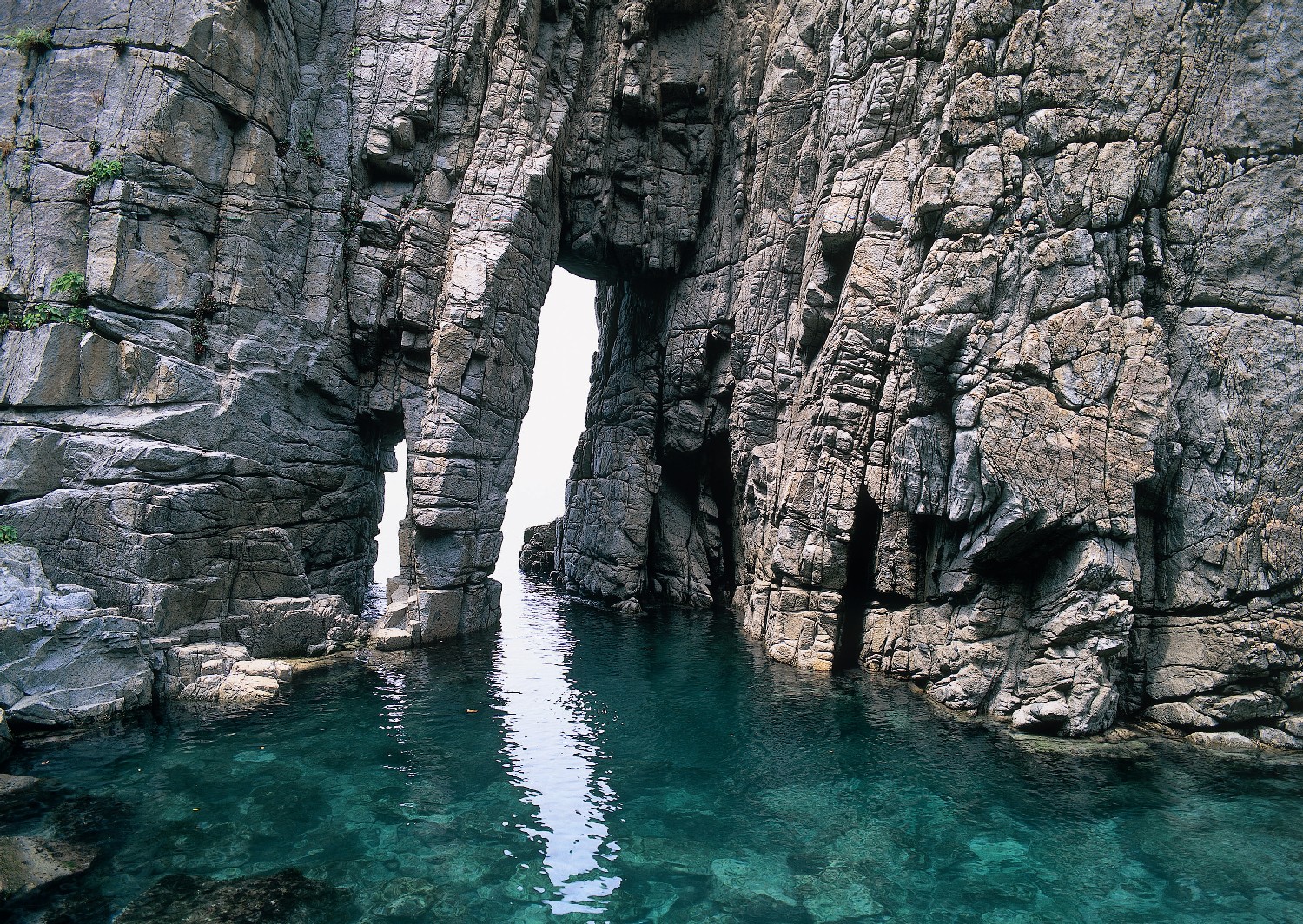 A trip full of the romance of history woven into 6 km of beautiful cliffs, strangely shaped rocks and cave mouths. Relish in the cruise as well as the art of the sea created by the surging waves.
"Sotomo" is an eroded cave on the coast of the northern side of Uchitomi Peninsula located on Obama Bay's east side. The cave is a piece of work created by the Sea of Japan, which carved out granite to form the cave. The strangely shaped rocks, cave mouths, caves and more continuing for 6 km have come to be the majestic scenery representing Wakasa Bay Quasi-National Park. It was designated as a national site of scenic beauty in 1934.
While Obama was a castle town of the Sakai clan, which yielded 123,500 koku (18,525,000 kg) of rice in the Middle Ages, it also served as a leading port on the coast of the Sea of Japan. Numerous trading ships and foreign ships coming from far and wide, from Hokkaido in the north to Kyushu in the south, entered this port. It is easy to imagine how people on these ships looked forward to the view of the "Sotomo" landscape when entering and leaving this port.
Theme

Landscape
fukui
| | |
| --- | --- |
| Website | http://www.wakasa-fishermans.com/sotomo.html |
| Highlight | Come see the dynamic landscape created by the raging waves of the Sea of Japan on a cruise of approx. 50 minutes. |
| Experience content | The pleasure boat "Cruise of Sotomo" is a cruise of approx. 50 minutes, where you can see the dynamic landscape created by the raging waves of the Sea of Japan. This trip, starting from in front of our building, allows you to fully enjoy the romance of history woven into 6 km of beautiful cliffs, strangely shaped rocks and cave mouths. |
| Price | Adults (age 13 and over): 2,000 yen / Children (age 6 to 12): 1,000 yen* Children under school age: Free / Discount available for groups |
| Payment Method | Cash |
| Acceptable number / Program | 30 people |
| Publication time Opening Hours | From April to November: 8 ships / day, December to February: 2 ships / day, March: 7 ships / day * Regular operation / Confirmation required |
| Time required for Stay , Exprerience | Approx. 50 minutes |
| Closed | The course may be changed or canceled depending on sea conditions |
| Parking Lot | Large buses: 17 spacesStandard cars: 150 spaces |
| Receiving target | Individuals Groups |
| Pamphlet | EnglishInterpreters, tour guides: available |
| Wi-fi | Yes |
| Barrier free correspondence | Yes |
| Reservation(Need / No Needed) | Reservation required via phone, website or fax |
| Reservation window | TEL: +81-770-52-3111 FAX: +81-770-53-2148 Email: sotomo@wakasa-fishermans.com |
| Traffic access | Approx. 5 minutes by taxi from Obama Station on the JR Obama Line |
| Postal code | 917-0081 |
| Contact address | Kawasaki 1-3-2, Obama City, Fukui Prefecture |
| Contact information | TEL:+81-770-52-3111 FAX:+81-770-53-2148 ail:sotomo@wakasa-fishermans.com |
| Official website | http://www.wakasa-fishermans.com/sotomo.html |