Nature experience at the Fukui Prefecture Nature Conservation Center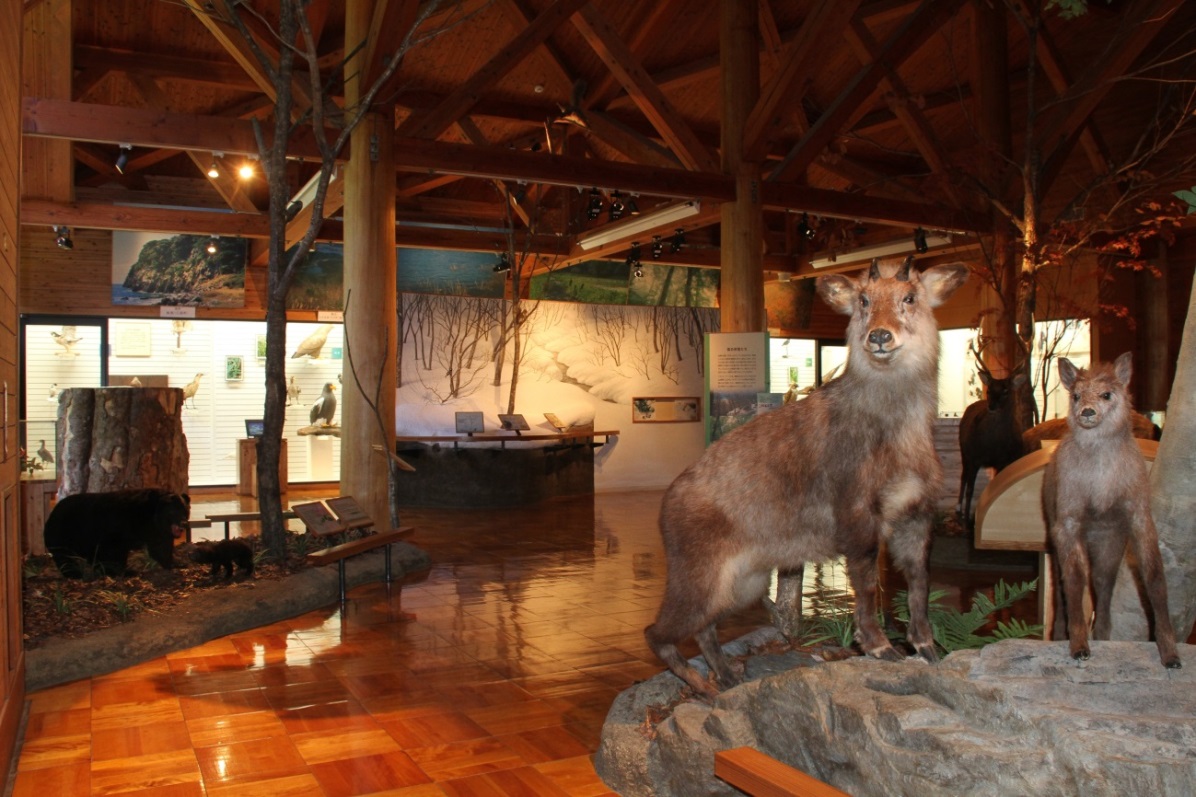 (1) Exhibits: The wonders of Fukui's nature are presented with samples, panel displays, dioramas, and other exhibits. Through these exhibits, visitors can learn about the forest and waterside environments and about how the different living creatures interact with each other. They can also use computers and other means to find out about plant and animal species that are at risk of going extinct in Fukui Prefecture, and learn about what efforts are being made to protect living creatures.
(2) Four-season nature observation course: Sundays and public holidays from April 15 to October 28, 2018. 11:00 -12:00; 13:15-14:15. There is a nature observation forest of about 28 hectares around the center's main building. This forest has a range of habitats, including wetlands, wooded areas, and grassy open spaces. Free nature observation sessions are held every Sunday and public holiday between April and October.
Depending on the season, visitors will be able to see a variety of insects and birds, and, if they're lucky, they could even encounter wild animals such as squirrels and foxes. In the rainy season, hundreds of eggs of the forest green tree frog (Rhacophorus arboreus) can be seen dangling from the branches of the trees around Umatori Pond. In addition, different species of dragonfly can be seen depending on the season around Tonbo-no-Ike (Dragonfly Pond), such the Eurasian Bluet (Coenagrion) and Siberian hawker (Aeshna crenata). The Center also has an abundance of plant life. In April, beautiful early-spring flowers, such as Adonis multiflora, Erythronbium japonicum, Heloniopsis orientalisis, and Anemone pseudoaltaica can be seen in bloom here and there around the park. Around Golden Week in May, in the Tsumadaira Wetlands, a massive cluster of Menyanthes trifoliata blossoms all at once.
(3) Winter Birds Restaurant. Jan-Feb: Center open days. Wild birds can be difficult to observe up close, but at the "Winter Birds Restaurant," visitors can spend time in a warm room watching wild birds gathering at the feeding platform. Sometimes, rare wild birds and even animals such as squirrels, martens, and foxes come along. Experts and staff provide commentary, and visitors can get even closer and take thrilling photographs from an outdoor photography hut.
(4) Weekend star-gazing sessions. Every Saturday. April-September: 19:30-21:30 / October-March: 19:00-21:00
Rokuroshi Kogen, where the Center is located, is one of Japan's best spots for views of the star-filled night skies. Visitors can observe planets, nebulae, star clusters, and the Milky Way with a 80cm-diameter reflecting telescope in the observatory building. Local astronomy leaders will provide detailed commentary about the stars in the sky.
(5) Planetarium: Weekends and public holidays (closed Jan-Feb). 10:00, 11:00, 13:30, 14:30 (Approx. 40 min.) Projection of the season's stars, together with live commentary and astrological tales.
Theme

Landscape
fukui
| | |
| --- | --- |
| Website | http://fncc.pref.fukui.lg.jp/ |
| Highlight | Wide variety of nature experiences at the Nature Conservation Center in the center of Okuetsu Kogen Prefectural Natural Park. |
| Experience content | Through exhibits, astronomy facilities (planetarium), and observations om the field, visitors can experience nature at the Center, which conducts activities to raise awareness about nature conservation, on the theme of "from familiar nature to space." Various special events are also held with a variety of themes in each season. |
| Tour style | Free observation |
| Price | Free admission A fee may be charged for participation in certain events. |
| Publication time Opening Hours | Open: 9:00 - 17:00 (Entry until 16:30) |
| Closed | Mondays except public holidays, days after public holidays, Dec. 28 - Jan. 4. May also close on irregular basis on other days. Confirmation in advance is required. |
| Parking Lot | Passenger cars: 50 |
| Receiving target | Individuals Groups (10 or more) |
| Pamphlet | Interpreters, guides, etc.: Not available |
| Wi-fi | None |
| Barrier free correspondence | None |
| Reservation(Need / No Needed) | Advanced telephone bookings required for groups only |
| Reservation window | TEL:+81-779-67-1655 FAX:+81-779-67-1656 Mail:sizen-ci@pref.fukui.lg.jp |
| Traffic access | Approx. 30 minutes' drive from Ono IC on the Chubu-Jukan Expressway. |
| Postal code | 912-0131 |
| Contact address | 169-11-2 Minami Rokuroshi, Ono City, Fukui Prefecture |
| Contact information | TEL:+81-779-67-1655 FAX:+81-779-67-1656 Mail:sizen-ci@pref.fukui.lg.jp |
| Official website | http://fncc.pref.fukui.lg.jp/ |